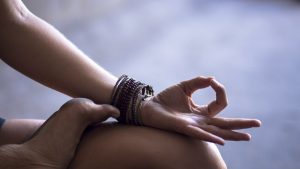 Improve Mental Health with Mantra-Based Meditation
By John M. de Castro, Ph.D.
"Many people find that using a mantra can boost awareness and improve concentration. Since it helps you stay focused, it could lead to improved results from meditation." – Timothy Legg
Meditation training has been shown to improve health and well-being. It has also been found to be effective for a large array of medical and psychiatric conditions, either stand-alone or in combination with more traditional therapies. But many people have difficulty quieting the mind and maintaining concentration during meditation. Repeating a mantra during meditation has been thought to help prevent intrusive thoughts and improve concentration and focus during meditation. There have been a number of studies of the psychological benefits of mantra-based meditations. It makes sense then to summarize what has been learned.
In today's Research News article "Effectiveness of Mantra-Based Meditation on Mental Health: A Systematic Review and Meta-Analysis." (See summary below or view the full text of the study at: https://www.ncbi.nlm.nih.gov/pmc/articles/PMC8949812/ ) Álvarez-Pérez and colleagues review, summarize, and perform a meta-analysis of the effects of mantra-based meditations on mental health. They found 51 published research studies.
They report that the published research studies found that mantra-based meditations produced significant reduction in anxiety, depression, perceived stress, post-traumatic stress disorder (PTSD) symptoms, and psychopathology, and significant increases in health-related quality of life. All of these effects had small to moderate effect sizes.
So, the published research demonstrate that mantra-based meditations produce significant improvements in mental health.
"Mantra meditation is not magic, but the results can be magical."— Thomas Ashley-Farrand"
CMCS – Center for Mindfulness and Contemplative Studies
This and other Contemplative Studies posts are also available on Twitter @MindfulResearch
Study Summary
Álvarez-Pérez, Y., Rivero-Santana, A., Perestelo-Pérez, L., Duarte-Díaz, A., Ramos-García, V., Toledo-Chávarri, A., Torres-Castaño, A., León-Salas, B., Infante-Ventura, D., González-Hernández, N., Rodríguez-Rodríguez, L., & Serrano-Aguilar, P. (2022). Effectiveness of Mantra-Based Meditation on Mental Health: A Systematic Review and Meta-Analysis. International journal of environmental research and public health, 19(6), 3380. https://doi.org/10.3390/ijerph19063380
Abstract
Background: Meditation is defined as a form of cognitive training that aims to improve attentional and emotional self-regulation. This systematic review aims to evaluate the available scientific evidence on the effectiveness and safety of mantra-based meditation techniques (MBM), in comparison to passive or active controls, or other active treatment, for the management of mental health symptoms. Methods: MEDLINE, EMBASE, Cochrane Library, and PsycINFO databases were consulted up to April 2021. Randomised controlled trials regarding meditation techniques mainly based on the repetition of mantras, such as transcendental meditation or others, were included. Results: MBM, compared to control conditions, was found to produce significant small-to-moderate effect sizes in the reduction of anxiety (g = −0.46, IC95%: −0.60, −0.32; I2 = 33%), depression (g = −0.33, 95% CI: −0.48, −0.19; I2 = 12%), stress (g = −0.45, 95% CI: −0.65, −0.24; I2 = 46%), post-traumatic stress (g = −0.59, 95% CI: −0.79, −0.38; I2 = 0%), and mental health-related quality of life (g = 0.32, 95% CI: 0.15, 0.49; I2 = 0%). Conclusions: MBM appears to produce small-to-moderate significant reductions in mental health; however, this evidence is weakened by the risk of study bias and the paucity of studies with psychiatric samples and long-term follow-up.