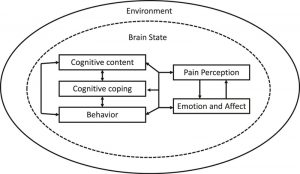 Improve Migraine Headache with Mindfulness
By John M. de Castro, Ph.D.
"Stress is a migraine trigger for nearly 70% of people living with migraine and disorders that cause severe head pain. Simple mindfulness exercises and relaxation techniques can help alleviate stress, increase calmness and, in some cases, prevent a migraine attack." – Shirley Kessel
Migraine headaches are a torment far beyond the suffering of a common headache. It is an intense throbbing pain usually unilateral, focused on only one side of the head and lasts from 4 hours to 3 days. They are actually a collection of neurological symptoms. Migraines often include: visual disturbances, nausea, vomiting, dizziness, extreme sensitivity to sound, light, touch and smell, and tingling or numbness in the extremities or face. Migraines are the 8th most disabling illness in the world. While most sufferers experience attacks once or twice a month, about 4% have chronic daily headaches. Migraines are very disruptive to the sufferer's personal and work lives as most people are unable to work or function normally when experiencing a migraine.
There is no known cure for migraine headaches. Treatments are targeted at managing the symptoms. Prescription and over-the-counter pain relievers are frequently used. There are a number of drug and drug combinations that appear to reduce the frequency of migraine attacks. These vary in effectiveness but unfortunately can have troubling side effects and some are addictive. Behaviorally, relaxation and sleep appear to help lower the frequency of migraines. Mindfulness practices have been shown to reduce stress and improve relaxation. So, they may be useful in preventing migraines. Indeed, it has been shown that mindfulness practice can reduce headache pain. The research is accumulating. So, it makes sense to summarize what has been learned.
In today's Research News article "Mindfulness in migraine: A narrative review." (See summary below or view the full text of the study at: https://www.ncbi.nlm.nih.gov/pmc/articles/PMC7213534/ ) Wells and colleagues review and summarize the published research on the effectiveness of mindfulness-based interventions for the relief of migraine headaches. They identified 8 published studies.
They report that the published studies found that mindfulness-based interventions produced significant improvements in patients with migraine headaches in regards to their overall quality of life and disability, self-efficacy and psychological symptoms over headache frequency. They also found that these mindfulness-based interventions work well in combination with pharmacologic treatments.
It is not known exactly how mindfulness produces these benefits for the patients with migraine headaches. The authors suggest that mindfulness may work as a result of decreasing pain perception, better coping mechanisms, greater body awareness, lowering reactivity, decreasing inflammation, improving stress coping, and modulating the autonomic nervous system. Regardless it is clear that mindfulness-based interventions do not cure migraines but rather improve the quality of life and reduce the disability of the patients. In combination with pharmacologic treatments mindfulness-based interventions work even better. Migraine headache is a torment. So, the relief produced by mindfulness-based interventions is very important for relieving the suffering of the patients.
So, improve migraine headache with mindfulness.
"Many people with migraine have brains that are more sensitive to change, whether it be changes inside us such as hydration or hormone levels or outside changes such as stress or even weather conditions. Daily mindfulness practice may help to settle these fluctuations and calm the mind which could have a beneficial effect on migraine. It can also be useful during a migraine attack to reduce the impact of the pain." – David Kernick
CMCS – Center for Mindfulness and Contemplative Studies
This and other Contemplative Studies posts are also available on Google+ https://plus.google.com/106784388191201299496/posts and on Twitter @MindfulResearch
Study Summary
Wells, R. E., Seng, E. K., Edwards, R. R., Victorson, D. E., Pierce, C. R., Rosenberg, L., Napadow, V., & Schuman-Olivier, Z. (2020). Mindfulness in migraine: A narrative review. Expert review of neurotherapeutics, 20(3), 207–225. https://doi.org/10.1080/14737175.2020.1715212
Abstract
Introduction:
Migraine is the second leading cause of disability worldwide, yet many patients are unable to tolerate, benefit from, or afford pharmacological treatment options. Non-pharmacological migraine therapies exist, especially to reduce opioid use, which represents a significant unmet need. Mindfulness-based interventions (MBI) have potential as a non-pharmacological treatment for migraine, primarily through the development of flexible attentional capacity across sensory, cognitive, and emotional experiences.
Areas Covered:
We review efficacy and potential mechanisms of MBIs for migraine, including mindfulness-based stress reduction (MBSR) and mindfulness-based cognitive therapy (MBCT).
Expert Opinion:
While most mindfulness research studies for migraine to date have been pilot trials, which are small and/or lacked rigor, initial evidence suggests there, may be improvements in overall headache-related disability and psychological well-being. Many research questions remain to help target the treatment to patients most likely to benefit, including the ideal dosage, duration, delivery method, responder characteristics, and potential mechanisms and biomarkers. A realistic understanding of these factors is important for patients, providers, and the media. Mindfulness will not "cure" migraine; however, mindfulness may be an important tool as part of a comprehensive treatment approach to help patients "mindfully" engage in valued life activities.
https://www.ncbi.nlm.nih.gov/pmc/articles/PMC7213534/