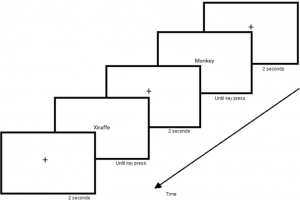 Meditation Improves Word Recognition
By John M. de Castro, Ph.D.
"Meditative practice changes a perception of emotional coloring of written speech." – Alexander Savostyanov
Mindfulness training has been shown to be effective in improving physical and psychological health and also improves cognition. In today's Research News article "Meditation affects word recognition of meditation novices." (See summary below or view the full text of the study at: https://www.ncbi.nlm.nih.gov/pmc/articles/PMC8942899/ ) Lusnig and colleagues recruited online healthy college students and randomly assigned them to receive 8 weeks of 1.5 hour weekly practice of mindfulness meditation, loving kindness meditation, or silent study for a class. The participant groups did not differ in mood states, personality, sustained attention, or intelligence. Before and after training they also performed a lexical decision task on a computer where they had to decide as quickly as possible whether a set of letters presented was a word or not and rated their feelings toward the word.
They found that after either meditation but not the control condition the participants found the words to be more neutral while after loving kindness meditation the participants found the positive words as more positive than prior the intervention. They also found that after either meditation but not the control condition the participants responded faster in detection words or non-words (lexical )decision) while loving kindness meditation participants had the fastest overall responses. These results suggest that meditation reduces emotional responses to words and improves word recognition.
These results suggest that meditation can help people think better. This may well be because meditation improves attention and reduces mind wandering and improves the regulation of emotions. Thus, meditation improves thinking (cognition) by making people calmer and more attentive.
"By training my mind to concentrate solely on what I am reading . . . I am better able to not only more fully enjoy the experience of reading again, but to really delve into what a book is saying, and making connections to other things I have read or knowledge I already possess." – Kerri Jarema
CMCS – Center for Mindfulness and Contemplative Studies
This and other Contemplative Studies posts are also available on Twitter @MindfulResearch
Study Summary
Lusnig, L., Radach, R., & Hofmann, M. J. (2022). Meditation affects word recognition of meditation novices. Psychological research, 86(3), 723–736. https://doi.org/10.1007/s00426-021-01522-5
Abstract
This work represents one of the first attempts to examine the effects of meditation on the processing of written single words. In the present longitudinal study, participants conducted a lexical decision task and rated the affective valence of nouns before and after a 7-week class in mindfulness meditation, loving-kindness meditation, or a control intervention. Both meditation groups rated the emotional valence of nouns more neutral after the interventions, suggesting a general down-regulation of emotions. In the loving-kindness group, positive words were rated more positively after the intervention, suggesting a specific intensification of positive feelings. After both meditation interventions, response times in the lexical decision task accelerated significantly, with the largest facilitation occurring in the loving-kindness group. We assume that meditation might have led to increased attention, better visual discrimination, a broadened attentional focus, and reduced mind-wandering, which in turn enabled accelerated word recognition. These results extend findings from a previous study with expert Zen meditators, in which we found that one session of advanced meditation can affect word recognition in a very similar way.
https://www.ncbi.nlm.nih.gov/pmc/articles/PMC8942899/