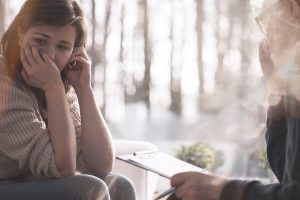 Improve Adolescent Social Behavior with Mindfulness
By John M. de Castro, Ph.D.
"mindfulness might help reduce adolescents' psychological distress through reducing expressive suppression of emotion experiences." – Ying Ma
Adolescence is a time of mental, physical, social, and emotional growth. It is during this time that higher levels of thinking, sometimes called executive function, develops. But adolescence can be a difficult time, fraught with challenges. During this time the child transitions to young adulthood; including the development of intellectual, psychological, physical, and social abilities and characteristics. There are so many changes occurring during this time that the child can feel overwhelmed and unable to cope with all that is required. This can lead to emotional and behavioral problems.
Indeed, up to a quarter of adolescents suffer from depression or anxiety disorders, and an even larger proportion struggle with subclinical symptoms. Mindfulness training in adults has been shown to reduce anxiety and depression levels and improve resilience and emotional regulation. In addition, in adolescents it has been shown to improve emotion regulation and to benefit the psychological and emotional health.
Dialectical Behavior Therapy (DBT) produces behavior change by focusing on changing the thoughts and emotions that precede problem behaviors, as well as by solving the problems faced by individuals that contribute to problematic thoughts, feelings, and behaviors. In DBT five core skills are practiced; mindfulness, distress tolerance, emotion regulation, the middle path, and interpersonal effectiveness. It is likely, then that DBT would be effective in facilitating emotion regulation in adolescents.
In today's Research News article "Preventing Emotional Dysregulation: Acceptability and Preliminary Effectiveness of a DBT Skills Training Program for Adolescents in the Spanish School System." (See summary below or view the full text of the study at: https://www.ncbi.nlm.nih.gov/pmc/articles/PMC8744757/ ) Gasol and colleagues recruited high school students ages 12-15 years and provided them with 30 weekly 50 minute sessions of a modified version of Dialectical Behavior Therapy (DBT). They were measured before and after treatment for satisfaction with life, mental health difficulties and strengths, and emotion regulation.
This pilot study found that the program was well received and liked by the students. They also found that after training the adolescents had a significant decrease in peer problems and a significant increase in prosocial behavior. Many improvements in other measures were seen but were not statistically significant. This suggests that mindfulness training may be modestly helpful for improving the social function of adolescents. Since adolescence is a time of major social stress, the program may be useful in helping the teens navigate this difficult time. But more highly controlled studies are needed.
So, improve social behavior in adolescents with mindfulness.
"mindfulness appears to be a protective individual difference characteristic during adolescence, and capacity for emotion regulation may be implicated in its effects on specific symptoms of psychopathology." – Christopher Pepping
CMCS – Center for Mindfulness and Contemplative Studies
This and other Contemplative Studies posts are also available on Twitter @MindfulResearch
Study Summary
Gasol, X., Navarro-Haro, M. V., Fernández-Felipe, I., García-Palacios, A., Suso-Ribera, C., & Gasol-Colomina, M. (2022). Preventing Emotional Dysregulation: Acceptability and Preliminary Effectiveness of a DBT Skills Training Program for Adolescents in the Spanish School System. International journal of environmental research and public health, 19(1), 494. https://doi.org/10.3390/ijerph19010494
Abstract
Emotional dysregulation is a key factor in the development and maintenance of multiple disabling mental disorders through a person's lifespan. Therefore, there is an urgent need to prevent emotional dysregulation as early as possible. The main aim of this study was to evaluate the acceptability and preliminary effectiveness of an adapted Dialectical Behavior Therapy Skills Training program for Emotional Problem Solving in Adolescents (DBT STEPS-A) during secondary school. The sample included 93 adolescents (mean age = 12.78; SD = 0.54; and 53% female) studying in their 2nd year of secondary school in a public center in Catalonia (Spain). Measures of acceptability, difficulties of emotional regulation, mental health problems, and life satisfaction were completed before and after participation in the DBT STEPS-A program during one academic year. The majority of students rated the program as useful (64%) and enjoyed the classes (62%) and 48% of them reported practicing the newly learned skills. Statistically significant improvements were revealed in some emotional regulation-related variables, namely the number of peer problems (p = 0.003; d = 0.52) and prosocial behaviors (p < 0.001; d = −0.82). Although non-significant, the scores in the remaining outcomes indicated a general positive trend in emotional dysregulation, mental health, and life satisfaction. The adapted DBT STEPS-A was very well-accepted and helped overcome some emotional regulation difficulties in Spanish adolescents.
https://www.ncbi.nlm.nih.gov/pmc/articles/PMC8744757/