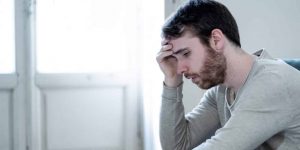 Improve Refractory Depression with Mindfulness
By John M. de Castro, Ph.D.
"Mindfulness and other meditations, particularly combined with cognitive therapy, work just as well for anxiety or depression as the medications do, but they don't have those side effects," – Daniel Goleman
Clinically diagnosed depression is the most common mental illness, affecting over 6% of the population. Major depression can be quite debilitating. Depression can be difficult to treat and is usually treated with anti-depressive medication. But, of patients treated initially with drugs only about a third attained remission of the depression. After repeated and varied treatments including drugs, therapy, exercise etc. only about two thirds of patients attained remission. But drugs often have troubling side effects and can lose effectiveness over time. In addition, many patients do not respond to treatment. This is called refractory depression.
Mindfulness training has been shown to be an effective treatment for depression and its recurrence and even in the cases where drugs fail. Dialectical Behavior Therapy (DBT)  is a mindfulness-based therapeutic technique that produces behavior change by focusing on changing the thoughts and emotions that precede problem behaviors, as well as by solving the problems faced by individuals that contribute to problematic thoughts, feelings and behaviors. In DBT five core skills are practiced; mindfulness, distress tolerance, emotion regulation, the middle path, and interpersonal effectiveness. DBT has been shown to be effective in treating depression. So, it makes sense, then, to study the effectiveness of Dialectical Behavior Therapy (DBT) for refractory depression.
In today's Research News article "Refractory depression – mechanisms and efficacy of radically open dialectical behaviour therapy (RefraMED): findings of a randomised trial on benefits and harms." (See summary below or view the full text of the study at: https://www.ncbi.nlm.nih.gov/pmc/articles/PMC7282863/ ) Lynch and colleagues recruited adults with refractory major depressive disorder and randomly assigned them to either treatment as usual or to receive 29 weekly 1 hour sessions of Dialectical Behavior Therapy (DBT). They were measured before and after treatment and 5 months and 11 months later for depressive symptoms, psychosocial functioning, suicidal ideation, psychological inflexibility, emotional coping, and social support.
They found that compared to baseline both groups continuously improved with reduced depressive symptoms, but the group that received Dialectical Behavior Therapy (DBT) demonstrated significantly greater reductions but they were only statistically significant immediately after treatment but not at the 5 and 11 month follow ups. Also remission rates were higher in the DBT group. In addition, the DBT group had significantly greater psychological flexibility, emotional coping after treatment and all follow-up measurements.
These are interesting results that suggest that Dialectical Behavior Therapy (DBT) is an effective treatment for refractory major depressive disorder. In other words, it helps the patients who are not helped by any other treatments; the most difficult to treat patients. The fact that the relief of depressive symptoms is not significantly different from the treatment as usual group at the 5 and 11-month follow ups suggests that booster session may be necessary. But it should be recognized that the patients were markedly improved relative to their baselines. It was just that the treatment as usual group improved as well. So, the DBT produced a large and sustained reduction in depression in these refractory patients.
So, improve refractory depression with mindfulness.
"Meditation helped me realize that the misery I feel is temporary. It sucks, but if I can wade my way through it, I know I'll probably have a better day tomorrow." – Stacey Neglia
CMCS – Center for Mindfulness and Contemplative Studies
This and other Contemplative Studies posts are also available on Google+ https://plus.google.com/106784388191201299496/posts and on Twitter @MindfulResearch
Study Summary
Lynch, T. R., Hempel, R. J., Whalley, B., Byford, S., Chamba, R., Clarke, P., Clarke, S., Kingdon, D. G., O'Mahen, H., Remington, B., Rushbrook, S. C., Shearer, J., Stanton, M., Swales, M., Watkins, A., & Russell, I. T. (2020). Refractory depression – mechanisms and efficacy of radically open dialectical behaviour therapy (RefraMED): findings of a randomised trial on benefits and harms. The British journal of psychiatry : the journal of mental science, 216(4), 204–212. https://doi.org/10.1192/bjp.2019.53
Abstract
Background
Individuals with depression often do not respond to medication or psychotherapy. Radically open dialectical behaviour therapy (RO DBT) is a new treatment targeting overcontrolled personality, common in refractory depression.
Aims
To compare RO DBT plus treatment as usual (TAU) for refractory depression with TAU alone (trial registration: ISRCTN 85784627).
Method
RO DBT comprised 29 therapy sessions and 27 skills classes over 6 months. Our completed randomised trial evaluated RO DBT for refractory depression over 18 months in three British secondary care centres. Of 250 adult participants, we randomised 162 (65%) to RO DBT. The primary outcome was the Hamilton Rating Scale for Depression (HRSD), assessed masked and analysed by treatment allocated.
Results
After 7 months, immediately following therapy, RO DBT had significantly reduced depressive symptoms by 5.40 points on the HRSD relative to TAU (95% CI 0.94–9.85). After 12 months (primary end-point), the difference of 2.15 points on the HRSD in favour of RO DBT was not significant (95% CI –2.28 to 6.59); nor was that of 1.69 points on the HRSD at 18 months (95% CI –2.84 to 6.22). Throughout RO DBT participants reported significantly better psychological flexibility and emotional coping than controls. However, they reported eight possible serious adverse reactions compared with none in the control group.
Conclusions
The RO DBT group reported significantly lower HRSD scores than the control group after 7 months, but not thereafter. The imbalance in serious adverse reactions was probably because of the controls' limited opportunities to report these.
https://www.ncbi.nlm.nih.gov/pmc/articles/PMC7282863/