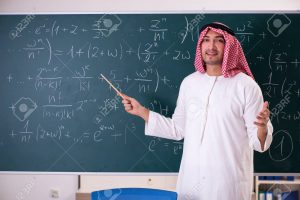 Mindfulness Improves the Psychological Health of Arab Teachers
By John M. de Castro, Ph.D.
"thousands of schools across the country that is bringing mindfulness into the classroom. Growing numbers of teachers, parents, and children are reaping the benefits that learning mindfulness—can bring, including reduced levels of stress and anxiety, increased focus and self-regulation, and improved academic performance and sleep, among others." – Caren Osten Gerszberg
Stress is epidemic in the western workplace with almost two thirds of workers reporting high levels of stress at work. This often produces burnout; fatigue, cynicism, emotional exhaustion, and professional inefficacy. Teachers experience burnout at high rates. Roughly a half a million teachers out of a workforce of three million, leave the profession each year and the rate is almost double in poor schools compared to affluent schools. Indeed, nearly half of new teachers leave in their first five years. Hence, methods of reducing stress and improving teacher psychological health needs to be studied.
Mindfulness techniques are gaining increasing attention for the treatment of the symptoms of stress and burnout. They have been demonstrated to be helpful in reducing the psychological and physiological responses to stress and for treating and preventing burnout in a number of work environments including schools. But there are very few studies of the effects of mindfulness training for teachers cultures other than western and oriental and virtually none in Arab cultures.
In today's Research News article "Effects of a Mindfulness Intervention Among Arab Teachers Are Mediated by Decentering: A Pilot Study." (See summary below or view the full text of the study at: https://www.frontiersin.org/articles/10.3389/fpsyg.2020.542986/full?utm_source=F-AAE&utm_medium=EMLF&utm_campaign=MRK_1456740_69_Psycho_20201013_arts_A ) Berkovich-Ohana and colleagues recruited Arab elementary school teachers from 2 different schools. The teachers in one school underwent a 30-hour 3-month mindfulness training program tailored for teachers while the teacher in the other underwent a 30-hour 6-month training program on teaching for understanding. The teachers were measured before and after the training programs for perceived stress, decentering, rumination, emotion regulation, including cognitive reappraisal and expressive suppression subscales, and mindfulness.
They found that the mindfulness group significantly increased in mindfulness and emotion regulation compared to baseline while the control group significantly decreased in mindfulness and emotion regulation. They also found that the mindfulness group had significant increases in decentering and decreases in perceived stress while the control group did not. In addition, while both groups significantly decreased in rumination, the mindfulness group had a significantly greater decrease.
Mindfulness training has been well established in western and oriental cultures to produces increased emotion regulation and decentering and decreased rumination and perceived stress. The present results extend these findings to Arab teachers. This leads to the conclusion that mindfulness training is beneficial for the psychological health of teachers regardless of culture. Mindfulness training appears to be helpful in lowering the stress levels of school teachers generally. Although not measured in the present study it would be expected that this would lead to decreased burnout and better classroom performance by the teachers.
So, mindfulness improves the psychological health of Arab teachers.
"Practicing mindfulness can help teachers to recognize our emotional patterns and proactively regulate how we behave, responding in the way we want to rather than reacting automatically. It can also help us to savor the positive moments in our job—when we feel the joy of true connection with our students or resonate with the joy and excitement our students feel when learning clicks for them." – Patricia A. Jennings 
CMCS – Center for Mindfulness and Contemplative Studies
This and other Contemplative Studies posts are also available on Google+ https://plus.google.com/106784388191201299496/posts and on Twitter @MindfulResearch
Study Summary
Berkovich-Ohana A, Lavy S and Shanboor K (2020) Effects of a Mindfulness Intervention Among Arab Teachers Are Mediated by Decentering: A Pilot Study. Front. Psychol. 11:542986. doi: 10.3389/fpsyg.2020.542986
Although mindfulness-based interventions (MBIs) in education are widely spreading in the world, examination of mindfulness effects in Arab schools is still scarce. This pilot study aimed to fill this gap by examining the effects of an MBI among Arab teachers in Israel. This examination was conducted within the framework of the mindful self in school relationships (MSSR) model, which suggests that the positive effects of MBI on teachers' emotion regulation are mediated by decentering. The participants (N = 39) were teachers from two Arab elementary schools in Israel, who underwent an MBI course (the MBI condition, N = 20) and another cognitive intervention (the control condition, N = 19). In a pre–post design, participants completed mindfulness, decentering, emotion regulation, and stress questionnaires. We hypothesized that (1) only in the MBI group, teachers' mindfulness, decentering, and emotional regulation will increase and stress will decrease, and (2) changes in teachers' decentering would mediate the associations of changes in teachers' mindfulness with changes in their emotion regulation. ANOVA analyses show that, only in the MBI condition, teachers showed an increase in three mindfulness subscales (acting with awareness, non-reactivity, and observance), in decentering, and in adaptive emotion regulation (reappraisal) and a decrease in stress. Furthermore, changes from pre-intervention to post-intervention in teachers' decentering mediated the associations of their pre–post changes in mindfulness with changes in emotion regulation. This study provides initial support to the feasibility and efficacy of MBI among Israeli Arab teachers and suggests decentering as a potential mediator of its effects in initial support of the MSSR model.
https://www.frontiersin.org/articles/10.3389/fpsyg.2020.542986/full?utm_source=F-AAE&utm_medium=EMLF&utm_campaign=MRK_1456740_69_Psycho_20201013_arts_A