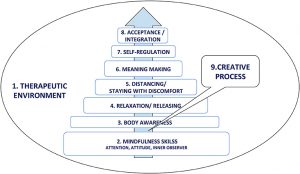 Reduce Pain and Depression in Chronic Pain Patients with Mindful Dance
By John M. de Castro, Ph.D.
"Music is the mediator between the life of the senses and the life of the spirit"  – Ludwig van Beethoven
Headaches are the most common disorders of the nervous system. It has been estimated that 47% of the adult population have a headache at least once during the last year. Primary headaches do not result from other medical conditions and include migraine, tension, and cluster headaches. There are a wide variety of drugs that are prescribed for primary headache pain with varying success. Headaches are treated with pain relievers, ergotamine, blood pressure drugs such as propranolol, verapamil, antidepressants, antiseizure drugs, and muscle relaxants. Drugs, however, can have some problematic side effects particularly when used regularly and are ineffective for many sufferers.
Most practitioners consider lifestyle changes that help control stress and promote regular exercise to be an important part of headache treatment and prevention. Avoiding situations that trigger headaches is also vital. A number of research studies have reported that mindfulness training is an effective There is an accumulating volume of research findings that demonstrate that mindfulness practices, in general, are effective in treating chronic pain and particularly headache pain. But there have been very few studies of the effectiveness of mindful dance for reducing chronic pain.
In today's Research News article "" (See summary below or view the full text of the study at: https://www.frontiersin.org/articles/10.3389/fpsyg.2021.587923/full?utm_source=F-AAE&utm_medium=EMLF&utm_campaign=MRK_1616048_69_Psycho_20210504_arts_A )  Majore-Dusele and colleagues recruited adult patients with chronic headaches and who were high in anxiety and depression. They were randomly assigned to either a wait-list control condition or to receive a twice a week for 90 minutes for 5 weeks program of Mindful-Based Dance Movement Therapy. They were measured before and after treatment and 2 month later for pain intensity, anxiety, depression, depressive symptom severity, and mindfulness.
They found that in comparison to baseline and the wait-list control group, the participants who received Mindful-Based Dance Movement Therapy had significant reductions in pain intensity and depression symptom severity that were maintained at the 2-month follow-up. It should be noted that there wasn't an active control group such as another exercise. So, it isn't clear if it was mindful dance or the exercise involved in the program that was the effective component. More tightly controlled studies with active controls are needed to clarify these issues.
This was a small pilot study that demonstrated feasibility, acceptability, and adherence to the Mindful-Based Dance Movement Therapy program. But it did more in suggesting that the treatment produces significant improvements in the mental health and headache pain of the patients. Mindfulness training has been previously shown to improve headache and depression. What is new here is the demonstration that Mindful-Based Dance Movement Therapy may also be effective.
So, reduce pain and depression in chronic pain patients with mindful dance.
"meditation used as a pain mediator . . allows us to see our thoughts & feelings in a non-reactive way. Sure it takes practice to get to this point, but so does everything. To be able to feel discomfort and watch your thoughts, decreases the chance of feeding the symptoms and inevitably increasing them. It allows us to practice being non-reactive to every sensation." – Mehta Physiotherapy
CMCS – Center for Mindfulness and Contemplative Studies
This and other Contemplative Studies posts are also available on Google+ https://plus.google.com/106784388191201299496/posts and on Twitter @MindfulResearch
Study Summary
Majore-Dusele I, Karkou V and Millere I (2021) The Development of Mindful-Based Dance Movement Therapy Intervention for Chronic Pain: A Pilot Study With Chronic Headache Patients. Front. Psychol. 12:587923. doi: 10.3389/fpsyg.2021.587923
Chronic pain is of significant global concern. There is growing evidence that body–mind therapies and psychological approaches can contribute toward changing chronic pain perceptions. This is the first model described in the literature that combines a mindfulness-based approach with dance movement therapy and explores the potential psychological and pain-related changes for this client population. In this paper, the results from the pilot study are presented involving patients with chronic headache recruited in an outpatient rehabilitation setting.
Methods: In this pilot study, 29 patients (n = 29) with chronic headache were randomized to either the Mindful-Based Dance Movement Therapy (MBDMT) group or the waiting list control group (treatment as usual, TAU). The MBDMT group was offered 10 sessions in a clinical outpatient rehabilitation setting for 5 weeks. Data were collected pre- and post-intervention and 16 weeks after the intervention was finished. The Hospital Anxiety and Depression Scale (HADS), Patient Health Questionnaire−9 (PHQ-9), Five Facet Mindfulness Questionnaire (FFMQ), and Numeric Rating Scale (NRS) were used as outcome measures.
Results: The working model of MBDMT identifies nine therapeutic mechanisms (safe therapeutic environment, mindfulness skills, body awareness, relaxation/releasing, distancing and staying with discomfort, meaning making, self-regulation, acceptance and integration, creative process). Per-protocol analysis reveals statistically significant reduction of pain intensity and depression scores in favor of the MBDMT group, and these improvements were maintained in the follow-up assessment.
Conclusions: The results suggest that MBDMT is a feasible and promising therapy approach for chronic pain patients. The pilot study offered sufficient information and preliminary results in the desirable direction to enable the researchers to move to a randomized controlled trial (RCT) stage in order to establish the efficacy of the intervention.
https://www.frontiersin.org/articles/10.3389/fpsyg.2021.587923/full?utm_source=F-AAE&utm_medium=EMLF&utm_campaign=MRK_1616048_69_Psycho_20210504_arts_A