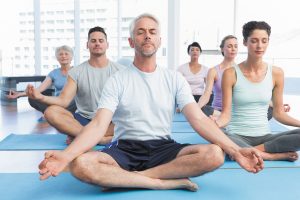 Lower Cardiovascular Disease Risk by Improving Emotion Regulation with Mindfulness
By John M. de Castro, Ph.D.
"People who meditate regularly reported feeling more balanced and less stressed, and . . . improved the outcomes when they were added to cardiac rehabilitation programmes for patients with CHD." – Heart Matters
Cardiovascular disease is the number one killer. A myriad of treatments has been developed including a variety of surgical procedures and medications. In addition, lifestyle changes have proved to be effective including quitting smoking, weight reduction, improved diet, physical activity, and reducing stresses. Unfortunately, for a variety of reasons, 60% of cardiovascular disease patients decline engaging in these lifestyle changes, making these patients at high risk for another attack.
Contemplative practices have been shown to be safe and effective alternative treatments for cardiovascular disease. Practices such as meditation, tai chi, and yoga, have been shown to be helpful for heart health and to reduce the physiological and psychological responses to stress. They have also been shown to be effective in maintaining cardiovascular health and the treatment of cardiovascular disease. The means by which mindfulness reduces cardiovascular disease risk have not been explored using the qualitative experiences of the patients.
In today's Research News article "Mindfulness and cardiovascular health: Qualitative findings on mechanisms from the mindfulness-based blood pressure reduction (MB-BP) study." (See summary below or view the full text of the study at: https://www.ncbi.nlm.nih.gov/pmc/articles/PMC7510988/ ) Nardi and colleagues recruited patients with hypertension who had participated in a study of the effectiveness of Mindfulness-Based Stress Reduction (MBSR) modified for hypertension, to reduce blood pressure. The participants participated in focus groups or were interviewed individually with semi-structured interviews. The groups and interviews focused on their experiences with the intervention and its effects. Transcripts of the responses were subjected to thematic analysis to identify common themes and ideas.
They found that the participants practiced breath awareness and body scans most in their everyday lives. Breath awareness allowed them to pause and relax to better address issues while the body scans made them more aware of their bodily states. These practices produced a greater awareness of the present moment and their responses to emotional situations allowing them to better regulate their emotions in these situations. They learned to apply self-kindness rather than self-criticism and to direct attention to mindfulness when stressful situations came up rather than worrying about them. All of this resulted in the improved ability to deal with their emotions. The participants indicated that they used the emotion regulation abilities to effectively deal with stress, learning to relax in the face of stress. This led to important changes in their health behaviors particularly diet.
These qualitative results suggest that the mindfulness program improved the patients' cardiovascular health. It provided them with tools to employ when emotional situations arose to heighten their awareness of exactly what was transpiring and how they felt in the present moment. This resulted in better regulation of emotions which in turn led to better responses to stress and improved health behaviors.
These qualitative results correspond to the results of controlled empirical studies of the effects of mindfulness training on a wide variety of individuals and conditions. These studies found that mindfulness training produced improved emotion regulation, increased self-kindness, improved responses to stress, and improved cardiovascular health.  Hence, mindfulness training provides individuals with skills that improve their lives and well-beeing.
So, lower cardiovascular disease risk by improving emotion regulation with mindfulness.
"there are four things that have scientifically been shown to reduce the risk of a heart attack in patients with mild to moderate coronary artery disease and they include – reduced stress (use meditation to do so), diet, exercise and love." – Jeena Cho
CMCS – Center for Mindfulness and Contemplative Studies
This and other Contemplative Studies posts are a also available on Google+ https://plus.google.com/106784388191201299496/posts and on Twitter @MindfulResearch
Study Summary
Nardi, W. R., Harrison, A., Saadeh, F. B., Webb, J., Wentz, A. E., & Loucks, E. B. (2020). Mindfulness and cardiovascular health: Qualitative findings on mechanisms from the mindfulness-based blood pressure reduction (MB-BP) study. PloS one, 15(9), e0239533. https://doi.org/10.1371/journal.pone.0239533
Abstract
Background
Mindfulness-based programs hold promise for improving cardiovascular health (e.g. physical activity, diet, blood pressure). However, despite theoretical frameworks proposed, no studies have reported qualitative findings on how study participants themselves believe mindfulness-based programs improved their cardiovascular health. With an emphasis on in-depth, open-ended investigation, qualitative methods are well suited to explore the mechanisms underlying health outcomes. The objective of this qualitative study was to explore the mechanisms through which the mindfulness-based program, Mindfulness-Based Blood Pressure Reduction (MB-BP), may influence cardiovascular health.
Methods
This qualitative study was conducted as part of a Stage 1 single arm trial with one-year follow-up. The MB-BP curriculum was adapted from Mindfulness-Based Stress Reduction to direct participants' mindfulness skills towards modifiable determinants of blood pressure. Four focus group discussions were conducted (N = 19 participants), and seven additional participants were selected for in-depth interviews. Data analysis was conducted using the standard approach of thematic analysis. Following double-coding of audio-recorded transcripts, four members of the study team engaged in an iterative process of data analysis and interpretation.
Results
Participants identified self-awareness, attention control, and emotion regulation as key mechanisms that led to improvements in cardiovascular health. Within these broader themes, many participants detailed a process beginning with increased self-awareness to sustain attention and regulate emotions. Many also explained that the specific relationship between self-awareness and emotion regulation enabled them to respond more skillfully to stressors. In a secondary sub-theme, participants suggested that higher self-awareness helped them engage in positive health behaviors (e.g. healthier dietary choices).
Conclusion
Qualitative analyses suggest that MB-BP mindfulness practices allowed participants to engage more effectively in self-regulation skills and behaviors lowering cardiovascular disease risk, which supports recent theory. Results are consistent with quantitative mechanistic findings showing emotion regulation, perceived stress, interoceptive awareness, and attention control are influenced by MB-BP.
https://www.ncbi.nlm.nih.gov/pmc/articles/PMC7510988/