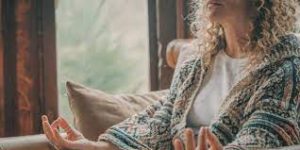 Improve the Cognitive, Social, and Psychological States of Mild Alzheimer's Patients with Mindfulness
By John M. de Castro, Ph.D.
"You have to be patient with Alzheimer's. Once you understand that it's a medical condition, you become a little more compassionate. You get less frustrated." – Kim Campbell
The normal aging process involves a systematic progressive decline in every system in the body, the brain included. The elderly often have problems with attention, thinking, and memory, known as mild cognitive impairment. But sometimes the decline is rapid and results in dementia; a progressive loss of mental function produced by degenerative diseases of the brain. It is quite common with about 3% of adults ages 70 to 74, 22% of adults ages 85 to 89 and 33% of adults ages 90 and older. Between 60% to 80% of dementia cases are classified as Alzheimer's Disease.
An encouraging new development is that mindfulness practices such as meditation training and mindful movement practices can significantly reduce these declines in cognitive ability. In addition, it has been found that mindfulness practices reduce the deterioration of the brain that occurs with aging restraining the loss of neural tissue. This suggests that mindfulness may help to relieve some of the symptoms and/or slow the progression of mild Alzheimer's Disease.
In today's Research News article "Effects of Mindfulness-Based Interventions (MBIs) in Patients with Early-Stage Alzheimer's Disease: A Pilot Study." (See summary below or view the full text of the study at: https://www.ncbi.nlm.nih.gov/pmc/articles/PMC10046197/ )  Giulietti and colleagues recruited elderly (>70 years old) patients suffering from mild Alzheimer's disease. They were randomly assigned to either receive no treatment or a once a week for 6-month mindfulness-based intervention including stress management, relaxation, and 15-minute meditations once in treatment and twice at home per week. At baseline and after 6-months the patients were measured with the Mini Mental States Inventory, and for health-related quality of life, depression, spiritual well-being, social status, everyday cognition, and neuropsychiatric symptoms.
In comparison to baseline the patients that received the mindfulness-based intervention had significantly greater levels of everyday cognition, spiritual well-being, and social functioning, and lower levels of depression, agitation/aggression, anxiety, apathy, euphoria, sleep, apathy, and appetite. Whereas the control patients had significantly worsening Mini Mental States Inventory, apathy, appetite, and depression.
Caution should be exercised in interpreting these results as it was a relatively small pilot study without an active control condition.
But the results suggest that mindfulness training improved the cognitive, social, and psychological states of mild Alzheimer's disease patients while the untreated patients showed a worsening of their cognitive and psychological states.
 "People do not realize that Alzheimer's is not old age. It is a progressive and fatal disease and staggering amounts of people develop Alzheimer's every day." – Melina Kanakaredes
CMCS – Center for Mindfulness and Contemplative Studies
This and other Contemplative Studies posts are also available on the Contemplative Studies Blog  http://contemplative-studies.org
Study Summary
Giulietti MV, Spatuzzi R, Fabbietti P, Vespa A. Effects of Mindfulness-Based Interventions (MBIs) in Patients with Early-Stage Alzheimer's Disease: A Pilot Study. Brain Sci. 2023 Mar 13;13(3):484. doi: 10.3390/brainsci13030484. PMID: 36979294; PMCID: PMC10046197.
Abstract
Bachground In this study, we hypothesize that mindfulness-based interventions (MBIs) may improve well-being and the related outcomes in Alzheimer's dementia patients (AD-P) at an early stage. MBIs consist of the practice of consciously observing the psychic contents in the present moment (thoughts, sensations, feelings, and other events). This attention allows one to become aware of the psychic contents and integrate them, thus favoring the quality of life and an increase in the mood of practitioners. Methods The randomized controlled study enrolled 22 AD-P at an early stage (age ≥ 60 years) treated with MBIs and 22 patients without treatment (six months of MBI training). Tests (T0–T1 six months): Mini-Mental State Examination (MMPI); Spiritual Well-Being (SWB); Beck Depression Inventory (BDI); SF36. Test-Caregiver: Everyday Cognition scales (ECOG). Results AD-P with mindfulness: Improvement of ECOG (p = 0.026), quality of life (p < 0.001), spiritual well-being (p < 0.001); decrease in depression BDI (p < 0.001). The MMSE remains unchanged. The control group of untreated patients showed a significant worsening in all these dimensions. Conclusions MBI training is effective in increasing quality of life and preventing worsening in patients with early-stage Alzheimer's dementia.
https://www.ncbi.nlm.nih.gov/pmc/articles/PMC10046197/