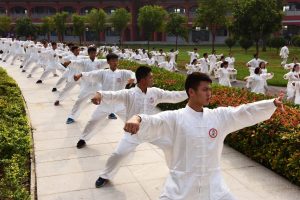 Improve Adolescent Psychological Well-Being with Tai Chi or Qigong
By John M. de Castro, Ph.D.
"Qigong was able to improve attention in adolescents after 4 weeks of practice, leading us to conclude that it may be a useful tool when integrated into physical education classes." – Leonel Duarte
Adolescence is a time of mental, physical, social, and emotional growth. It is during this time that higher levels of thinking, sometimes called executive function, develops. But adolescence can be a difficult time, fraught with challenges. During this time the child transitions to young adulthood; including the development of intellectual, psychological, physical, and social abilities and characteristics. There are so many changes occurring during this time that the child can feel overwhelmed and unable to cope with all that is required. This can lead to emotional and behavioral problems.
Indeed, up to a quarter of adolescents suffer from depression or anxiety disorders, and an even larger proportion struggle with subclinical symptoms. Mindfulness training in adults has been shown to reduce anxiety and depression levels and improve resilience and emotional regulation. In addition, in adolescents it has been shown to improve emotion regulation and to benefit the psychological and emotional health.
Tai Chi and Qigong are ancient mindfulness practices involving slow prescribed movements. They are gentle and completely safe, are inexpensive to administer, can be performed in groups or alone, at home or in a facility or even public park. There has been accumulating research on the effects of Tai Chi and Qigong training on the psychological well-being of adolescents. So, it makes sense to summarize what has been learned.
In today's Research News article "The Effects of Tai Chi and Qigong Exercise on Psychological Status in Adolescents: A Systematic Review and Meta-Analysis." (See summary below or view the full text of the study at: https://www.frontiersin.org/articles/10.3389/fpsyg.2021.746975/full?utm_source=F-AAE&utm_medium=EMLF&utm_campaign=MRK_1784429_a0P58000000G0YfEAK_Psycho_20211202_arts_A  ) Liu and colleagues review, summarize, and perform a meta-analysis of the published controlled research studies effects of Tai Chi and Qigong training on the psychological well-being of adolescents (aged 12 to 18 years).
They identified 10 published research studies with a total of 1244 participants. They report that the published research studies found that Tai Chi or Qigong practice produced significant reductions in anxiety, depression, and blood cortisol levels (stress marker) and significant improvements in self-concept and general mental health. Adolescence is a turbulent and stressful time. The published research suggests that practicing Tai Chi or Qigong helps reduce the mental turbulence and may help the youths navigate adolescence and in their transition to adulthood.
So, improve adolescent psychological well-being with Tai Chi or Qigong.
"Teens . . . who had taken the Tai Chi Chuan classes showed markedly less stress and psychological distress and enjoyed a much better self-image." – Jeff Paterson
CMCS – Center for Mindfulness and Contemplative Studies
This and other Contemplative Studies posts are available on Twitter @MindfulResearch
Study Summary
Liu X, Li R, Cui J, Liu F, Smith L, Chen X and Zhang D (2021) The Effects of Tai Chi and Qigong Exercise on Psychological Status in Adolescents: A Systematic Review and Meta-Analysis. Front. Psychol. 12:746975. doi: 10.3389/fpsyg.2021.746975
Background: The purpose of this study was to systematically review the effectiveness of Tai Chi and Qigong exercise on adolescents' symptoms of depression and anxiety, and psychological status based on clinical evidences, and to calculate the pooled results using meta-analysis.
Methods: A systematic search using seven English and three Chinese databases was initiated to identify randomized controlled trials (RCT) and non-randomized comparison studies (NRS) assessing the effect of Tai Chi and Qigong exercise on psychological status among adolescents. Standardized mean differences (SMD) and their 95% confidence intervals (CI) were used to determine the pooled effect of the intervention. Study quality was evaluated using a Checklist to Evaluate a Report of a Non-pharmacological Trial (CLEAR-NPT) designed for non-pharmacological trials.
Results: Four RCTs and six NRS were identified, including 1,244 adolescents. The results suggested a potential beneficial effect of Tai chi and Qigong exercise on reducing anxiety (SMD = 0.386, 95 CI% [0.233, 0.538]) and depression (SMD = 1.937 [95 CI%, 1.392–2.546]) symptoms, and reducing cortisol level (SMD = 0.621 [95 CI%, 0.18–1.062]) in adolescents. Conversely, non-significant effects were found for stress, mood, and self-esteem.
Conclusions: The findings of this review suggest Qigong appears to be an effective therapeutic modality to improve psychological well-being in adolescents. Hope future studies will have rigorously designed, well-controlled randomized trials with large sample sizes in order to confirm these findings.
https://www.frontiersin.org/articles/10.3389/fpsyg.2021.746975/full?utm_source=F-AAE&utm_medium=EMLF&utm_campaign=MRK_1784429_a0P58000000G0YfEAK_Psycho_20211202_arts_A