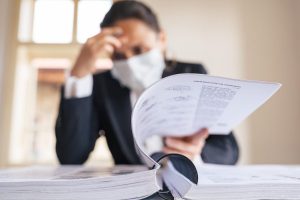 Reduce Covid-19 Lockdown Stress Effects on Sleep and Work Engagement with Mindfulness
By John M. de Castro, Ph.D.
"Research shows that mindfulness meditation can reduce symptoms of stress, anxiety, and depression and can have a significant impact in the workplace". – Headspace
Mindfulness training has been shown to improve health and well-being in healthy individuals. It has also been found to be effective for a large array of medical and psychiatric conditions, either stand-alone or in combination with more traditional therapies. The COVID-19 pandemic has challenged the mental and physical health of the population. It has created intense stress both for workers but also for people simply isolating at home. Mindfulness is known to decrease the psychological and physical responses to stress. So, mindfulness training may be helpful in employees coping with the mental challenges resulting from the COVID-19 pandemic lockdown.
In today's Research News article "Stay Mindful and Carry on: Mindfulness Neutralizes COVID-19 Stressors on Work Engagement via Sleep Duration." (See summary below or view the full text of the study at: https://www.frontiersin.org/articles/10.3389/fpsyg.2020.610156/full?utm_source=F-AAE&utm_medium=EMLF&utm_campaign=MRK_1757290_a0P58000000G0YfEAK_Psycho_20211021_arts_A ) Zheng and colleagues performed 2 studies, recruiting working adult participants, one in China and the other in the UK during Covid-19 lockdown. They were randomly assigned to practice for 10 minutes each morning for 10 days an audio guided practice of mindfulness or mind wandering. They were measured before and after training for mindfulness, sleep quality, work engagement, and the level of stress as indicated by the number of Covid-19 cases in the area.
They found that with the mind wandering group the greater the number of cases reported the shorter the sleep duration of the participants while the mindfulness group had no significant change in sleep duration. In addition, they found that work engagement was positively related to sleep duration but negatively related to the number of cases reported.
The results suggest that mindfulness training reduces the impact of stress during Covid-19 lockdown on sleep which in turn maintains work engagement. Mindfulness has previously been shown in multiple studies to improve sleep, reduce stress effects, and improve work engagement. The present study suggests that these benefits of mindfulness practice work to buffer the effects of the stress produced by Covid-19 lockdown on sleep and work engagement. In other words mindfulness training makes employees better able to cope with stress.
So, reduce Covid-19 lockdown stress effects on sleep and work engagement with mindfulness.
"The mindful response to COVID-19 . . . exemplifies that burnout can be mitigated by system-sponsored programming." – Marianna Klatt
CMCS – Center for Mindfulness and Contemplative Studies
This and other Contemplative Studies posts are also available on Google+ https://plus.google.com/106784388191201299496/posts and on Twitter @MindfulResearch
Study Summary
Zheng MX, Masters-Waage TC, Yao J, Lu Y, Tan N and Narayanan J (2020) Stay Mindful and Carry on: Mindfulness Neutralizes COVID-19 Stressors on Work Engagement via Sleep Duration. Front. Psychol. 11:610156. doi: 10.3389/fpsyg.2020.610156
We examine whether mindfulness can neutralize the negative impact of COVID-19 stressors on employees' sleep duration and work engagement. In Study 1, we conducted a field experiment in Wuhan, China during the lockdown between February 20, 2020, and March 2, 2020, in which we induced state mindfulness by randomly assigning participants to either a daily mindfulness practice or a daily mind-wandering practice. Results showed that the sleep duration of participants in the mindfulness condition, compared with the control condition, was less impacted by COVID-19 stressors (i.e., the increase of infections in the community). In Study 2, in a 10-day daily diary study in the United Kingdom between June 8, 2020, and June 19, 2020, we replicate our results from Study 1 using a subjective measure of COVID-19 stressors and a daily measure of state mindfulness. In addition, we find that mindfulness buffers the negative effect of COVID-19 stressors on work engagement mediated by sleep duration. As the COVID-19 pandemic is ongoing and the number of reported cases continues to rise globally, our findings suggest that mindfulness is an evidence-based practice that can effectively neutralize the negative effect of COVID-19 stressors on sleep and work outcomes. The findings of the present study contribute to the employee stress and well-being literature as well as the emerging organizational research on mindfulness.
https://www.frontiersin.org/articles/10.3389/fpsyg.2020.610156/full?utm_source=F-AAE&utm_medium=EMLF&utm_campaign=MRK_1757290_a0P58000000G0YfEAK_Psycho_20211021_arts_A