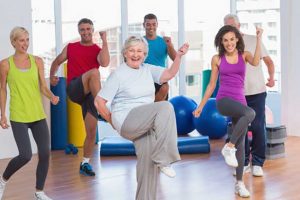 Improve Reaction Time and Memory and Lose Weight with Yoga
By John M. de Castro, Ph.D.
"Yoga practice seems to be associated with moderate improvements in cognitive function." – Neha Gothe
Mindfulness training has been shown to be effective in improving physical and psychological health and also improves cognitive flexibility. Yoga practice has been shown to have a large number of beneficial effects on the psychological, emotional, and physical health of the individual and is helpful in the treatment of mental and physical illness. Yoga practice has been shown to improve both social–emotional and cognitive skills.
In today's Research News article "Effect of 12 Weeks of Yogic Training on Neurocognitive Variables: A Quasi-Experimental Study." (See summary below or view the full text of the study at: https://www.ncbi.nlm.nih.gov/pmc/articles/PMC8117916/ ) Chatterjee and colleagues recruited healthy adults and assigned them to receive either 6-days per week for 12 weeks of yoga practice or to a wait-list control group. Yoga practice started at 45 minutes per day at the start of training increasing systematically to 105 minutes by the 12th week. They were measured before during and after training for body size, visual and auditory reaction time, and for short-term memory.
They found that in comparison to baseline and the wait-list control group, the group that practiced yoga had a significant weight loss, increase in short-term memory, and decrease in visual and auditory reaction times.
In interpreting these findings, it should be recognized that the comparison, control, condition was passive and as such there is a possibility that the observed changes were due to participant expectancies, experimenter bias, attention effects, etc. In addition, the control condition did not involve any physical activity. So, it is possible that the benefits seen were due to the exercise provided by the yoga practice rather than anything specific to yoga. But clearly the two groups had different response over the course of treatment. In addition, yoga practice has been shown in controlled research to improve cognitive performance and memory. So, the results probably result from the effects of the practice.
So, improve reaction time and memory and lose weight with yoga.
"taking up yoga may be a good way to maintain your brain health by increasing physical activity and possibly also alleviating stress." – Yuko Hara
CMCS – Center for Mindfulness and Contemplative Studies
This and other Contemplative Studies posts are also available on Google+ https://plus.google.com/106784388191201299496/posts and on Twitter @MindfulResearch
Study Summary
Chatterjee, S., Mondal, S., & Singh, D. (2021). Effect of 12 Weeks of Yogic Training on Neurocognitive Variables: A Quasi-Experimental Study. Indian journal of community medicine : official publication of Indian Association of Preventive & Social Medicine, 46(1), 112–116. https://doi.org/10.4103/ijcm.IJCM_325_20
Abstract
Background:
Neurocognitive abilities are the brain-mind skills needed to initiate any task from the simplest to the most complex, decreases with advancing age. Attention, alertness, and memory are the basic neurocognitive functions most affected by age. There are potential benefits of yoga on neurocognitive functions because this ancient Indian technique positively nurtures the mind-body systems.
Aim of the Study:
The present study was aimed to evaluate the effect of 12 weeks of yogic training on neurocognitive abilities in a middle-aged group.
Methods:
A total of 86 volunteers (46 male and 40 females, age group of 35–55 years), with no prior experience of yoga were participated in this study. Five male and 4 female participants were excluded from the study. All participants divided into yoga training group (male = 21 and female = 18) and control group (male = 20 and female = 18). The yoga training group underwent yoga practices, including kriya, surya namaskar, asana, pranayama, and dhyana daily in the morning, for 6 days/week, for 12 weeks. Standing height, body weight, body mass index, visual reaction time (RT), auditory RT (attention and alertness), and short-term memory were assessed day 1 (pre), 6th week (mid), and 12th weeks (post) of intervention.
Results:
Repeated-measures analysis of variance showed that a statistically significant increased (P < 0.05) in attention-alertness and short-term memory after 12 weeks of yogic practices.
Conclusion:
Integrated approach of yogic intervention may have promising effect on neurocognitive abilities that concomitantly promote successful aging.
https://www.ncbi.nlm.nih.gov/pmc/articles/PMC8117916/