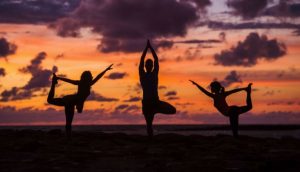 Yoga Practice is Positively Related to Spirituality
By John M. de Castro, Ph.D.
"This ancient science goes far beyond the mere physical aspects, by way of deepening the connection between mind, body and most important of all, the spirit." – Himalayan Yoga Institute
Yoga developed in India millennia ago as a deep spiritual practice. It developed as a contemplative practice that unified body and mind. Yoga was known to have physical benefits, but the most important benefit was seen to be spiritual development. But as yoga emerged and was practiced in the west it was secularized. This was for good reason, as western society was not ready to accept an ancient eastern spiritual practice. As a result, to the vast majority of westerners, yoga is an exercise to improve appearance and  physical fitness. It is a means to mold the body to look good, as a health promoting practice, and as a strategy to help lose weight. It is unclear whether the association of yoga with spirituality is still present in western societies.
In today's Research News article "The Relationship Between Yoga and Spirituality: A Systematic Review of Empirical Research." (See summary below or view the full text of the study at: https://www.frontiersin.org/articles/10.3389/fpsyg.2021.695939/full?utm_source=F-AAE&utm_medium=EMLF&utm_campaign=MRK_1699247_a0P58000000G0YfEAK_Psycho_20210805_arts_A ) Csala and colleagues review and summarize the published research studies on the association of Yoga practice with spirituality. They identified 30 published research studies.
They report that the published research found that yoga practice produces increases in the spirituality of practitioners. They report that the regularity of yoga practice is positively related to the increased spirituality. In western cultures the most frequent reasons for yoga practice are physical, particularly health and appearance. But as practice continues s spirituality becomes more and more the goal of practice regardless of the original intent. In addition, they report that yoga practitioners are spiritual as opposed to religious. Practitioners emphasize direct conscious experience.
Hence, in the west, regular yoga practice leads to increased spirituality regardless of the original intent of engaging in yoga practice. This suggests that components of yoga practice have characteristics that lead to increased spirituality. This could well be the present moment focus involved in yoga practice. This improved spirituality may be, at least in part, the mechanism by which yoga practice leads to greater physical and psychological well-being.
So, yoga practice is positively related to spirituality.
"Yoga is not a religion (though those who are unfamiliar with it sometimes misunderstand it as such). Yoga is a practice, and a philosophy. It is a lens through which to understand the world and your place in it. And if you do have a religion, or spiritual practice of any kind, it gives you a set of practical tools that can help to deepen your faith." – Katie Malik
CMCS – Center for Mindfulness and Contemplative Studies
This and other Contemplative Studies posts are also available on Google+ https://plus.google.com/106784388191201299496/posts and on Twitter @MindfulResearch
Study Summary
Csala B, Springinsfeld CM and Köteles F (2021) The Relationship Between Yoga and Spirituality: A Systematic Review of Empirical Research. Front. Psychol. 12:695939. doi: 10.3389/fpsyg.2021.695939
Objective: Both yoga practice and spirituality are associated with beneficial mental health outcomes. Within yoga research, however, spirituality is still a widely neglected area. The present systematic review aims to explore empirical studies, which do, in fact, investigate the relationship between yoga and spirituality in order to provide an overview and future directions for research on this topic. The review examines whether available empirical research supports an association between yoga practice and spirituality and, if so, which specific aspects of spirituality are associated with yoga practice.
Methods: The systematic review followed the PRISMA guideline (Prospero registration number: CRD42020155043). Empirical studies written in English, German, or Hungarian language were selected from a database search in Google Scholar, PsycINFO, and Science Direct. A total of 30 studies met the final inclusion criteria.
Results: According to the quantitative and qualitative studies reviewed, yoga practice seems to be positively associated with spirituality. This association concerns various aspects of spirituality, such as spiritual aspirations, a search for insight/wisdom, an integrative worldview, a sense of meaning and peace, faith, hope, compassion, and happiness within. To harness the potential spiritual benefits of yoga, regular practice appears to be essential. Yoga practitioners seem to have both physical and spiritual motives for practicing. At least in Western societies, however, physical intentions are more prevalent than spiritual ones. The meaning of spirituality for yoga practitioners is also discussed. Due to risk of bias of the majority of the reviewed studies, however, outcomes must be taken with caution.
Conclusion: Yoga practice may be positively associated with several aspects of spirituality. For more evidence, further investigation of the topic is suggested. Particularly, we propose the inclusion of holistic forms of yoga practice and a comparison of Eastern and Western approaches to yoga.
https://www.frontiersin.org/articles/10.3389/fpsyg.2021.695939/full?utm_source=F-AAE&utm_medium=EMLF&utm_campaign=MRK_1699247_a0P58000000G0YfEAK_Psycho_20210805_arts_A