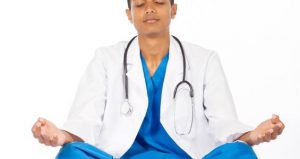 Improve the Psychological Well-Being of Medical Students with Mindfulness
By John M. de Castro, Ph.D.
"Medical students are being trained to have 100 things on their mind at all times. It's harder and harder to focus on one thing explicitly. [Mindfulness] gives you that skill to know that you can focus on everything at once, but when you need to focus on one thing, you can be present with it." – Chloe Zimmerman
Stress is epidemic in the western workplace with almost two thirds of workers reporting high levels of stress at work. In high stress occupations, like healthcare, burnout is all too prevalent. Burnout is the fatigue, cynicism, emotional exhaustion, sleep disruption, and professional inefficacy that comes with work-related stress. It is estimated that over 45% of healthcare workers experience burnout. Currently, over a third of healthcare workers report that they are looking for a new job. It not only affects the healthcare providers personally, but also the patients, as it produces a loss of empathy and compassion. Burnout, in fact, it is a threat to the entire healthcare system as it contributes to the shortage of doctors and nurses.
Preventing burnout has to be a priority. Contemplative practices have been shown to reduce the psychological and physiological responses to stress. Indeed, mindfulness has been shown to be helpful in treating and preventing burnout, increasing resilience, and improving sleep. It would be best to provide techniques to combat burnout early in a medical career. Studying medicine can be extremely stressful and many students show distress and express burnout symptoms. The undergraduate medical student level may be an ideal time to intervene.
In today's Research News article "Mindfulness-based stress reduction for medical students: a narrative review." (See summary below or view the full text of the study at: https://www.ncbi.nlm.nih.gov/pmc/articles/PMC8105581/ )  Polle and colleagues review and summarize the published research on the effectiveness of the Mindfulness-Based Stress Reduction (MBSR) program to improve the psychological well-being of undergraduate medical students. MBSR includes training in meditation, body scan, and yoga, and group discussions normally over an 8-week period. They identified 9 published studies.
They report that the published research found that Mindfulness-Based Stress Reduction (MBSR) produced significant increases in undergraduate medical students mood, mental health, satisfaction with life, and self-compassion and significant reductions in psychological distress, perceived stress, and depression. One study followed up these students 6 years later and found persisting effects of MBSR.
The published research paints a clear picture that participating in a Mindfulness-Based Stress Reduction (MBSR) program produces lasting benefits for the psychological health of undergraduate medical students. This is important as stress and burnout is prevalent in the medical professions and intervening early may prevent or ameliorate future problems. Incorporation of MBSR into the undergraduate medical curriculum should be considered.
So, improve the psychological well-being of medical students with mindfulness.
"in medical students, higher empathy, lower anxiety, and fewer depression symptoms have been reported by students after participating in MSBR. In summary, mindfulness meditation may be used to elicit positive emotions, minimize negative affect and rumination, and enable effective emotion regulation."- Michael Minichiello
CMCS – Center for Mindfulness and Contemplative Studies
This and other Contemplative Studies posts are also available on Google+ https://plus.google.com/106784388191201299496/posts and on Twitter @MindfulResearch
Study Summary
Polle, E., & Gair, J. (2021). Mindfulness-based stress reduction for medical students: a narrative review. Canadian medical education journal, 12(2), e74–e80. https://doi.org/10.36834/cmej.68406
Abstract
Background
Medical students are at high risk of depression, distress and burnout, which may adversely affect patient safety. There has been growing interest in mindfulness in medical education to improve medical student well-being. Mindfulness-based stress reduction (MBSR) is a commonly used, standardized format for teaching mindfulness skills. Previous research has suggested that MBSR may be of particular benefit for medical students. This narrative review aims to further investigate the benefits of MBSR for undergraduate medical students.
Methods
A search of the literature was performed using MedLine, Embase, ERIC, PSYCInfo, and CINAHL to identify relevant studies. A total of 102 papers were identified with this search. After review and application of inclusion and exclusion criteria, nine papers were included in the study.
Results
MBSR training for medical students was associated with increased measures of psychological well-being and self-compassion, as well as improvements in stress, psychological distress and mood. Evidence for effect on empathy was mixed, and the single paper measuring burnout showed no effect. Two studies identified qualitative themes which provided context for the quantitative results.
Conclusions
MBSR benefits medical student well-being and decreases medical student psychological distress and depression.
https://www.ncbi.nlm.nih.gov/pmc/articles/PMC8105581/