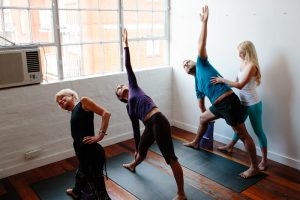 Reduce Employee Stress with Workplace Yoga
By John M. de Castro, Ph.D.
"Practicing yoga at the workplace teaches employees to use relaxation techniques to reduce stress and risks of injury on the job. Yoga at the workplace is a convenient and practical outlet that improves work performance by relieving tension and job stress." – Shira Taylor Gura
Work is very important for our health and well-being. We spend approximately 25% of our adult lives at work. How we spend that time is immensely important for our psychological, social, and physical health. But, nearly 2/3 of employees worldwide are unhappy at work. This is partially due to work-related stress which is epidemic in the western workplace. Almost two thirds of workers reporting high levels of stress at work. This stress can result in impaired health and can result in burnout; producing fatigue, cynicism, and professional inefficacy.
To help overcome unhappiness, stress, and burnout, mindfulness practices have been implemented in the workplace. Mindfulness has been demonstrated to be helpful in reducing the psychological and physiological responses to stress and for treating and preventing burnout in a number of work environments. Yoga practice has the extra benefits of not only being mindfulness training but also as an exercise. The research has been accumulation. So, it makes sense to step back and summarize what has been learned about the effects of yoga practice in the workplace on employee stress levels.
In today's Research News article "Effectiveness of Workplace Yoga Interventions to Reduce Perceived Stress in Employees: A Systematic Review and Meta-Analysis." (See summary below or view the full text of the study at: https://www.ncbi.nlm.nih.gov/pmc/articles/PMC7739364/ ) Valle and colleagues review, summarize, and perform a meta-analysis of the published controlled research studies of the effectiveness of yoga practice in the workplace for the stress levels and psychological health of employees.
They identified 6 controlled trials with a total of 487 participants. They report that these published trials found that yoga interventions in the workplace produced significant reductions in the stress levels of the employees. This replicates previous studies that practicing yoga reduces stress. It is important that the yoga classes were held at work. This makes participation much more convenient, making it more likely. As a result, yoga in the workplace may be a very effective means of reducing stress and thereby reducing employee burnout.
So, reduce employee stress with workplace yoga.
"Yoga postures, slow, deep, yogic breathing has also shown to elicit a relaxation response which could contribute to a reduction in stress in the workplace." – Lisa Rappaport
CMCS – Center for Mindfulness and Contemplative Studies
This and other Contemplative Studies posts are also available on Google+ https://plus.google.com/106784388191201299496/posts and on Twitter @MindfulResearch
Study Summary
Della Valle, E., Palermi, S., Aloe, I., Marcantonio, R., Spera, R., Montagnani, S., & Sirico, F. (2020). Effectiveness of Workplace Yoga Interventions to Reduce Perceived Stress in Employees: A Systematic Review and Meta-Analysis. Journal of functional morphology and kinesiology, 5(2), 33. https://doi.org/10.3390/jfmk5020033
Abstract
Work-related stress represents a relevant public health issue and solution strategies are mandatory. Yoga is a common approach to manage stress and its effectiveness has been extensively confirmed. Therefore, this study aims systematically to review the effectiveness of Yoga interventions carried out at workplace on work-related stress among employees and to assess their impact quantitatively. Springerlink, MEDLINE, PubMed, CINAHL, Web of Science, Scopus, Cochrane CENTRAL and PEDro databases were searched. Clinical trials comparing workplace Yoga interventions to control groups, and evaluating perceived stress as outcome measure, were assessed for eligibility. All forms and styles of Yoga were considered for the analysis. Out of 3392 initially identified, 6 studies were included in the meta-analysis; 266 participants practicing Yoga interventions at worksite were compared to 221 subjects in control group. Included studies showed "some concerns" about different domains of source of bias. Quantitative analysis showed an overall effect size of −0.67 [95% confidence interval (CI): −0.86, −0.49] in favor of Yoga intervention in reducing stress outcome measures. Hence, workplace Yoga interventions were more effective when compared to no treatment in work-related stress management. Further high-quality studies are needed to improve the validity of these results and to specify more characteristics of the Yoga intervention, such as style, volume, and frequency.
https://www.ncbi.nlm.nih.gov/pmc/articles/PMC7739364/