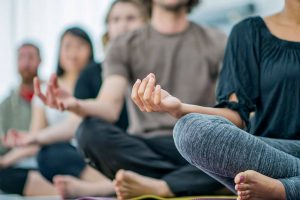 Decrease Stress' Ability to Produce Depression with Mindfulness
By John M. de Castro, Ph.D.
"mindfulness has become a popular way to help people manage their stress and improve their overall well-being — and a wealth of research shows it's effective." – American Psychological Association
In the modern world education is a key for success. Where a high school education was sufficient in previous generations, a college degree is now required to succeed in the new knowledge-based economies. There is a lot of pressure on university students to excel so that they can get the best jobs after graduation. As a result, parents and students are constantly looking for ways to improve student performance in school. The primary tactic has been to pressure the student and clear away routine tasks and chores so that the student can focus on their studies. But, this might in fact be counterproductive as the increased pressure can actually lead to stress, depression, and anxiety which can impede the student's mental health, well-being, and school performance.
It is, for the most part, beyond the ability of the individual to change the environment to reduce stress, so it is important that methods be found to reduce the college students' responses to stress; to make them more resilient when high levels of stress occur. Contemplative practices including meditation, mindfulness training, and yoga practice have been shown to reduce the psychological and physiological responses to stress. So, it would seem important to examine various techniques to relieve the stress and its consequent symptoms of depression in college students.
In today's Research News article "Moderating Effect of Mindfulness on the Influence of Stress on Depression According to the Level of Stress among University Students in South Korea." (See summary below or view the full text of the study at: https://www.ncbi.nlm.nih.gov/pmc/articles/PMC7560191/ ) Park and colleagues recruited non-freshman college students and had them complete measures of life stress, mindfulness, and depression. These data were then subjected to multiple regression analysis.
They found that stress and depression were significantly higher in female than male students, in low economic status students and in students with low subjective health. They report that the higher the levels of stress, the higher the levels of depression and the higher the levels of mindfulness, the lower the levels of both stress and depression. They also found that high levels of mindfulness interrupted the relationship between stress and depression in the students with low levels of stress but not in the students with high levels of stress.
These results are interesting but conclusions must be tempered with the understanding that the study was correlative and causation cannot be determined. It would seem to make sense that money and health issues would be associated with greater stress and depression levels. The fact that stress and depression were higher in female students has also been reported in multiple studies. So, life conditions and gender are important factors in generating stress and depression.
It has been well established in prior research that mindfulness training lowers stress and depression. So, the associations seen in the present study are likely due to causal relations. This suggests the mindfulness lowers depression directly and also by reducing the effects of low levels of stress on depression. These results suggest that mindfulness training may be effective, then, for improving the mental health of college students.
So, decrease stress' ability to produce depression with mindfulness.
CMCS – Center for Mindfulness and Contemplative Studies
This and other Contemplative Studies posts are available on Google+ https://plus.google.com/106784388191201299496/posts and on Twitter @MindfulResearch
Study Summary
Park, K. H., Kim, H., & Kim, J. (2020). Moderating Effect of Mindfulness on the Influence of Stress on Depression According to the Level of Stress among University Students in South Korea. International journal of environmental research and public health, 17(18), 6634. https://doi.org/10.3390/ijerph17186634
Abstract
Stress and depression are representative of the mental health problems of university students worldwide. This cross-sectional study explored the moderating effect of mindfulness on the influence of stress on depression according to the degree of life stress. The participants were 738 university students in years 2–4 in five 4-year universities in South Korea. Depression was positively correlated with stress and negatively with mindfulness at a statistically significant level. In multiple regression analysis, stress was found to have an effect by increasing depression, and mindfulness by relieving depression. In the moderated multiple regression analysis, mindfulness had a moderating effect on the impact of stress on depression only in low-stress groups, showing that the interaction of stress with mindfulness was significantly negative (β = −0.11, t = −2.52, p = 0.012) and the inclusion of this interaction significantly increased the explanatory power for depression variation (F change 6.36, p = 0.012) in the full model. In conclusion, we suggest considering stress levels in the development of mindfulness-based intervention strategies to effectively manage the depression of university students.
https://www.ncbi.nlm.nih.gov/pmc/articles/PMC7560191/