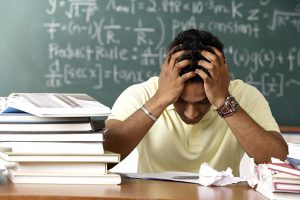 Prayer Reduces Catholic Teacher Burnout
By John M. de Castro, Ph.D.
"One of the most important ways we can take care of ourselves, is by maintaining a consistent prayer life. We have to be willing to recognize God's role in our life and in our teaching." – Rachel Gleeson
Stress is epidemic in the western workplace with almost two thirds of workers reporting high levels of stress at work. This often produces burnout; fatigue, cynicism, emotional exhaustion, and professional inefficacy. Teachers experience burnout at high rates. Roughly a half a million teachers out of a workforce of three million, leave the profession each year and the rate is almost double in poor schools compared to affluent schools. Indeed, nearly half of new teachers leave in their first five years.
Burnout frequently results from emotional exhaustion. This exhaustion not only affects the teachers personally, but also the students, as it produces a loss of enthusiasm, empathy, and compassion. Regardless of the reasons for burnout or its immediate presenting consequences, it is a threat to schools and their students. In fact, it is a threat to the entire educational systems as it contributes to the shortage of teachers. Hence, preventing burnout has to be a priority.
Mindfulness has been demonstrated to be helpful in treating and preventing burnout.
Prayer can be a mindfulness meditation practice. It is possible that Prayer, like mindfulness, can reduce teacher burnout.
In today's Research News article "Spirituality and Prayer on Teacher Stress and Burnout in an Italian Cohort: A Pilot, Before-After Controlled Study." (See summary below or view the full text of the study at: https://www.frontiersin.org/articles/10.3389/fpsyg.2019.02933/full?utm_source=F-AAE&utm_medium=EMLF&utm_campaign=MRK_1232595_69_Psycho_20200204_arts_A), Chirico and colleagues recruited Catholic school teachers and randomly assigned them to a no treatment control condition or to receive training 30-minute, twice a week for 2 months in a combination of prayer and meditative adoration of the divine. They were measured before the treatment and 4 months later for job satisfaction, psychological well-being, and burnout, including emotional exhaustion and depersonalization.
They found that in comparison to baseline and the control condition that the group that received training in prayer had significantly higher levels of job satisfaction and psychological well-being, and significantly lower levels of burnout, including both emotional exhaustion and depersonalization. These effects had moderate to large effect sizes.
These results are interesting and suggest that prayer, like other mindfulness practices, is effective in promoting well-being and reducing job burnout. The mechanisms by which this occurs were not investigated but mindfulness is known to reduce the physiological and psychological responses to stress. This may, in turn, make the individual more resilient and better able to withstand the difficulties encountered in the classroom.
So, reduces catholic teacher burnout with prayer.
"spiritual intelligence plays an important role in work environment." – Ravie Mirshavi
CMCS – Center for Mindfulness and Contemplative Studies
This and other Contemplative Studies posts are also available on Google+ https://plus.google.com/106784388191201299496/posts and on Twitter @MindfulResearch
Study Summary
Chirico F, Sharma M, Zaffina S and Magnavita N (2020) Spirituality and Prayer on Teacher Stress and Burnout in an Italian Cohort: A Pilot, Before-After Controlled Study. Front. Psychol. 10:2933. doi: 10.3389/fpsyg.2019.02933
Introduction: Teaching is a stressful profession that exposes workers to the risk of burnout. Techniques involving higher mental functions, such as transcendental meditation and prayer, have been used in stress and burnout prevention programs. In this study, we report the results of an experience conducted in a group of teachers of a religious institute, in which prayer was used as a technique to prevent burnout.
Methods: Fifty teachers and support staff employed at a Catholic school of a Congregation of nuns volunteered for this study. They were randomized into two groups: prayer treatment (n = 25) or control group (n = 25). The treatment protocol was based on the combination of individual Christian prayer and a focus group of prayer-reflection. The participants received two 30 min training sessions a week over 2 months. Job satisfaction, well-being, and burnout symptoms (emotional exhaustion and depersonalization sub-scales) were measured at baseline and at follow-up (4 months) with the Italian versions of the Maslach Burnout Inventory validated for teaching and education sector, the General Health Questionnaire, and the Warr, Cook, and Wall's Job Satisfaction Scale.
Results: At follow-up, a significant improvement of all outcome measures was observed. Emotional exhaustion (16.80–4.92, p < 0.001), depersonalization (3.72–0.60, p < 0.001) levels, and psychological impairment (10.08–2.04, p < 0.001) were significantly decreased, and job satisfaction (45.96–77.00, p < 0.001) was increased. The effect sizes (Glass' Δ) of the therapeutic interventions ranged from 0.53 (satisfaction level) to 2.87 (psychological health), suggesting moderate to large effects.
Discussion: Prayer could be effective, no less than meditation and other spiritual or mind-body techniques, in contrasting the negative effects of occupational stress and preventing burnout among teachers and possibly other human service professionals.
https://www.frontiersin.org/articles/10.3389/fpsyg.2019.02933/full?utm_source=F-AAE&utm_medium=EMLF&utm_campaign=MRK_1232595_69_Psycho_20200204_arts_A