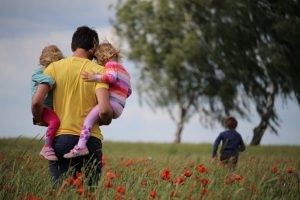 Be Better Parents with Online Mindful Parenting
By John M. de Castro, Ph.D.
"Managing our own emotions and behaviors is the key to teaching kids how to manage theirs. . . Unfortunately, when you're stressed out, exhausted, and overwhelmed, you can't be available for your child." – Jill Cedar
Raising children, parenting, is very rewarding. But it can also be challenging. Children test parents frequently. They test the boundaries of their freedom and the depth of parental love. They demand attention and seem to especially when parental attention is needed elsewhere. They don't always conform to parental dictates or aspirations for their behavior. The challenges of parenting require that the parents be able to deal with stress, to regulate their own emotions, and to be sensitive and attentive their child. These skills are exactly those that are developed in mindfulness training. It improves the psychological and physiological responses to stress. It improves emotion regulation. It improves the ability to maintain attention and focus in the face of high levels of distraction.
Mindful parenting involves the parents having emotional awareness of themselves and compassion for the child and having the skills to pay full attention to the child in the present moment, to accept parenting non-judgmentally and be emotionally non-reactive to the child. Mindful parenting has been shown to have positive benefits for both the parents and the children.
The vast majority of the mindfulness training techniques, however, require a trained therapist. This results in costs that many parents can't afford. In addition, the participants must be available to attend multiple sessions at particular scheduled times that may or may not be compatible with parents' busy schedules and at locations that may not be convenient. As an alternative, mindfulness trainings over the internet have been developed. These have tremendous advantages in decreasing costs, making training schedules much more flexible, and eliminating the need to go repeatedly to specific locations. But the question arises as to the effectiveness of these online trainings in reducing parental stress and improving parenting.
In today's Research News article "A Randomized Control Trial Evaluating an Online Mindful Parenting Training for Mothers With Elevated Parental Stress." (See summary below or view the full text of the study at: https://www.ncbi.nlm.nih.gov/pmc/articles/PMC6650592/), Potharst and colleagues recruited mothers who were high in perceived stress and reported parenting problems. The mothers were randomly assigned to either receive an online mindful parenting program or to a wait list control condition. The online mindful parenting program consisted of 8 weekly session with instructions and exercises on meditation, mindful parenting, and self-compassion. They were measured before and after the training and 10 weeks later after the wait list group had received the intervention for parental stress, overreactive parenting discipline, mindful parenting, self-compassion, anxiety, and depression. In addition, both parents rated the child for child aggressive behavior and emotional reactivity.
They found that the online mindful parenting program in comparison to baseline and the wait-list control group produced significant reductions in anxiety, depression, overreactive parenting discipline, parental role restriction and child emotional reactivity and significant increases in self-compassion.
These results suggest that an online mindful parenting program can be successfully implemented and that it significantly improves the psychological health of the mothers, their parenting, and the child's behavior. Mindful parenting has been previously shown to have positive benefits for both the parents and the children. The contribution of the present study is in demonstrating that mindful parenting can be successfully conducted online with stressed mothers. This greatly increases the ability to roll out this effective program to a much wider audience at low cost.
Parenting is difficult and stressful enough under the best of conditions. It is encouraging to find a relatively simple, convenient and inexpensive program that can help the parents to become better parents and to ease their psychological burden.
So, be better parents with online mindful parenting.
"It seems there's no one right way to parent mindfully. Happily, there are many right ways. Sometimes "It's as simple as practicing paying full attention to our kids, with openness and compassion, and maybe that's enough at any moment." – Juliann Garey
CMCS – Center for Mindfulness and Contemplative Studies
This and other Contemplative Studies posts are also available on Google+ https://plus.google.com/106784388191201299496/posts and on Twitter @MindfulResearch
Study Summary
Potharst, E. S., Boekhorst, M., Cuijlits, I., van Broekhoven, K., Jacobs, A., Spek, V., … Pop, V. (2019). A Randomized Control Trial Evaluating an Online Mindful Parenting Training for Mothers With Elevated Parental Stress. Frontiers in psychology, 10, 1550. doi:10.3389/fpsyg.2019.01550
Abstract
Objectives
The prevalence of maternal stress in early years of parenting can negatively impact child development. Therefore, there is a need for an early intervention that is easily accessible and low in costs. The current study examined the effectiveness of an 8-session online mindful parenting training for mothers with elevated levels of parental stress.
Methods
A total of 76 mothers were randomized into an intervention (n = 43) or a waitlist control group (n = 33). The intervention group completed pretest assessment prior to the online intervention. Participants completed a post intervention assessment after the 10 weeks intervention and a follow-up assessment 10 weeks later. The waitlist group completed waitlist assessment, followed by a 10-week waitlist period. After these 10 weeks, a pretest assessment took place, after which the waitlist group participants also started the intervention, followed by the posttest assessment. Participating mothers completed questionnaires on parental stress (parent-child interaction problems, parenting problems, parental role restriction) and other maternal (over-reactive parenting discipline, self-compassion, symptoms of depression and anxiety) and child outcomes (aggressive behavior and emotional reactivity) while the non-participating parents (father or another mother) were asked to also report on child outcomes.
Results
The online mindful parenting intervention was shown to be significantly more effective at a 95% level than a waitlist period with regard to over-reactive parenting discipline and symptoms of depression and anxiety (small and medium effect sizes), and significantly more effective at a 90% level with regard to self-compassion, and mother-rated child aggressive behavior and child emotional reactivity (small effect sizes). The primary outcome, parental stress, was found to have a 95% significant within-group effect only for the subscale parental role restriction (delayed small effect size improvement at follow-up). No significant improvements on child outcomes were found for the non-participating parent.
Conclusion
To conclude, the results provide first evidence that an online mindful parenting training may be an easily accessible and valuable intervention for mothers with elevated levels of parental stress.
https://www.ncbi.nlm.nih.gov/pmc/articles/PMC6650592/