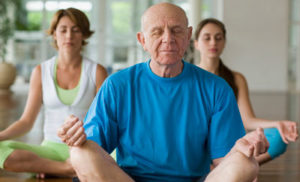 Improve Mental Health in Older Adults with Online Meditation Practice
By John M. de Castro, Ph.D.
"The good news is that there are steps we can take right now to make the goal of "aging gracefully" more attainable. Mindfulness training is one of those steps; research has clearly shown that regular meditation comes with a wide range of physical, mental and emotional health benefits should particularly interest seniors." – Mindworks
Human life is one of constant change. We revel in our increases in physical and mental capacities during development but regret their decline during aging. As we age, there are systematic progressive declines in every system in the body, the brain included. This includes our mental abilities and results in impairments in memory, attention, and problem-solving ability. It is inevitable and cannot be avoided. Aging also results in changes in mental health. Depression is very common in the elderly. The elderly cope with increasing loss of friends and family, deteriorating health, as well as concerns regarding finances on fixed incomes. All of these are legitimate sources of worry. In addition, many elderly experience withdrawal and isolation from social interactions. But, no matter how reasonable, the increased loneliness, worry and anxiety add extra stress that can impact on the elderly's already deteriorating physical and psychological health.
Mindfulness appears to be effective for an array of physical and psychological issues that occur with aging. It appears to strengthen the immune system and reduce inflammation. It has also been shown to be beneficial in slowing or delaying physical and mental decline with aging. and improve cognitive processes. It has also been shown to reduce anxiety, worry, and depression and improve overall mental health. Since the global population of the elderly is increasing at unprecedented rates, it is imperative to investigate safe and effective methods to improve mental health in the elderly. In addition, the elderly frequently have mobility issues and going to a treatment facility may be challenging. A promising alternative is online mindfulness programs. It is not known, however, whether these will be acceptable and effective in elderly populations.
In today's Research News article "Internet Mindfulness Meditation Intervention (IMMI) Improves Depression Symptoms in Older Adults." (See summary below or view the full text of the study at: https://www.ncbi.nlm.nih.gov/pmc/articles/PMC6313401/pdf/medicines-05-00119.pdf ), Wahbeh and colleagues recruited older adults aged 55 to 80 years who were not currently meditators and demonstrated symptoms of depression. They were randomly assigned either to a wait list control group or to receive 6 weeks of online 1-hour once a week meditation training with 20 minutes daily guided meditations to be practiced at their convenience. Meditation included both body scan and sitting meditations. The participants were measured before and after training and 7 weeks later for mindfulness depression, resilience, spiritual experiences, insomnia, pain, perceived stress, and satisfaction with the intervention.
They found that in comparison to the baseline and the wait list control participants after meditation practice there were significant reductions in depression, insomnia, perceived stress, and pain interference, and significant increases in spirituality. These effects were maintained at follow-up 7 weeks after the end of treatment.
These are important findings. The vast majority of the mindfulness training techniques require a certified trained therapist. This results in costs that many clients can't afford. In addition, the participants must be available to attend multiple sessions at particular scheduled times that may or may not be compatible with their schedules and at locations that may not be convenient. The online mindfulness training program has tremendous advantages in decreasing costs, making training schedules much more flexible, and eliminating the need to go repeatedly to specific locations. These advantages are particularly important for elderly individuals. In addition, there is evidence that mindfulness programs delivered online can be quite effective.
The current findings demonstrate that online meditation training can be successfully implemented with older adults with symptoms of depression and that this program can produce significant improvements in the mental health of the participants. This suggests that such programs can be widely and inexpensively distributed over the internet to improve the well-being of the elderly.
So, improve mental health in older adults with online meditation practice.
"Meditation – not just medication – is an effective treatment for elderly patients with late-life depression." – Jennifer Bieman
CMCS – Center for Mindfulness and Contemplative Studies
This and other Contemplative Studies posts are also available on Google+ https://plus.google.com/106784388191201299496/posts and on Twitter @MindfulResearch
Study Summary
Helané Wahbeh. Internet Mindfulness Meditation Intervention (IMMI) Improves Depression Symptoms in Older Adults. Medicines (Basel) 2018 Dec; 5(4): 119. Published online 2018 Nov 2. doi: 10.3390/medicines5040119
Abstract: Background: Older adults have fewer physiological reserves and are more likely to be affected by stress. Mindfulness meditation has the potential to be an effective treatment for depression, but little research has been conducted on older adults. The primary objective of this study was to evaluate depression symptom changes in older adults (55–80 years old) taking an Internet Mindfulness Meditation Intervention (IMMI) compared to a waitlist control. The secondary aims were to collect data on pain, perceived stress, resilience, mindfulness, sleep quality, and spirituality. Methods: Fifty older adults were randomized to either the Internet Mindfulness Meditation Intervention, a six-week online intervention with daily home practice, or a waitlist control. Measures were collected at baseline, after the six-week intervention period, and again six weeks later after the waitlist participants completed IMMI. Adherence to home practice was objectively measured with iMINDr. Changes in outcomes for the IMMI and waitlist participants were compared. All participants who completed IMMI were then combined for a within-participant analysis. Results: Adherence to the intervention was low, likely due to a traumatic event in the local area of the participants. Compared to the waitlist participants, those in IMMI had improved depression symptoms (p < 0.00005), perceived stress (p = 0.0007), insomnia symptoms (p = 0.0009), and pain severity (p = 0.05). In the within-participant analysis of all data before and after IMMI (i.e., those initially randomized to IMMI and waitlist participants who took it), we found improvements in depression symptoms (p = 0.0001), perceived stress (p = 0.0001), insomnia symptoms (p < 0.00005), pain interference (p = 0.003), and spirituality (p = 0.018). A seven-week follow-up after the original six-week IMMI program showed sustained improvements in the IMMI participants. Conclusions: IMMI improved depression and related symptoms compared to controls despite minimal support from study staff. IMMI offers a low-dose, low-cost, easily accessible mindfulness meditation intervention for older adults with depression symptoms.
https://www.ncbi.nlm.nih.gov/pmc/articles/PMC6313401/pdf/medicines-05-00119.pdf