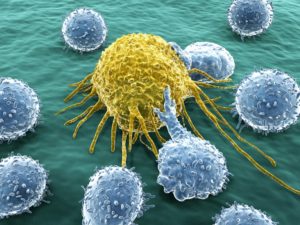 Improve Inflammatory Responses in Breast Cancer Survivors with Mindfulness
By John M. de Castro, Ph.D.
"Several studies have documented the value of meditation in managing both psychological and physical symptoms associated with cancer and its treatments. But it is important for patients considering meditation to note that regular, ongoing practice is essential for sustained benefits." – Shelly Latte-Naor
About 12.5% of women in the U.S. develop invasive breast cancer over their lifetimes and every year about 40,000 women die. Indeed, more women in the U.S. die from breast cancer than from any other cancer, besides lung cancer. Breast cancer diagnosis, however, is not always a death sentence. Death rates have been decreasing for decades from improved detection and treatment of breast cancer. Five-year survival rates are now at around 95%. The improved survival rates mean that more women are now living with cancer.
Mindfulness training has been shown to help with general cancer recovery and breast cancer recovery. Mindfulness helps to alleviate many of the residual physical and psychological symptoms, including stress,  sleep disturbance, and anxiety and depression. One important benefit of mindfulness practices appears to be a strengthening of the immune system, the body's primary defense against disease. The immune system is designed to protect the body from threats like stress, infection, injury, and toxic chemicals. One of its tools is the Inflammatory response. This response works to fight off infections and injuries. Unfortunately, breast cancer treatment tend to suppress the inflammatory response making the women more susceptible to infection. Mindfulness training have been shown to adaptively alter the inflammatory response.
In today's Research News article "A Randomized Controlled Trial of the Effects of Mindfulness-Based Stress Reduction (MBSR[BC]) on Levels of Inflammatory Biomarkers Among Recovering Breast Cancer Survivors." (See summary below or view the full text of the study at: https://www.ncbi.nlm.nih.gov/pmc/articles/PMC5942506/ ), Reich and colleagues recruited adult survivors of breast cancer who had completed treatment. They were randomly assigned to receive either a 6-week program of Mindfulness-Based Stress Reduction (MBSR) modified for breast cancer survivors or to usual care. The MBSR program consists of 6 weekly 2-hour sessions involving meditation, yoga, body scan, and discussion and encouraged daily practice for 15-45 minutes. Blood was drawn before and after treatment and 6 weeks later and assayed for cytokines; IL-1β, IL-6, IL-10, TNFα, and TGF-β1.
They found that in comparison to baseline and to the usual care group, participation in the Mindfulness-Based Stress Reduction (MBSR) program produced significant increases in the proinflammatory cytokines IL-6 and TNFα. Hence, mindfulness training alters the activity of the inflammatory systems, increasing the inflammatory response. This is important as breast cancer treatment tends to decrease the activity of the inflammatory system and this results in increases in susceptibility to infection. By increasing the activity of the proinflammatory cytokines, IL-6 and TNFα, MBSR training tends to produce a normalization of their levels. This would tend to make these women better able to fight off infection and better recover from their treatment.
This normalization of the proinflammatory response produced by MBSR practice may be the underlying mechanism by which mindfulness practice helps with general cancer recovery and breast cancer recovery.
So, improve inflammatory responses in breast cancer survivors with mindfulness.
"A growing body of research points to direct benefits related to meditation practices. These benefits extend to cancer patients. .  .  . As a result, a number of cancer centers now offer programs that include types of meditation and mindfulness practices,"
CMCS – Center for Mindfulness and Contemplative Studies
This and other Contemplative Studies posts are also available on Google+ https://plus.google.com/106784388191201299496/posts and on Twitter @MindfulResearch
Study Summary
Reich, R. R., Lengacher, C. A., Klein, T. W., Newton, C., Shivers, S., Ramesar, S., … Kip, K. E. (2017). A Randomized Controlled Trial of the Effects of Mindfulness-Based Stress Reduction (MBSR[BC]) on Levels of Inflammatory Biomarkers Among Recovering Breast Cancer Survivors. Biological Research for Nursing, 19(4), 456–464. http://doi.org/10.1177/1099800417707268
Abstract
Purpose:
The purpose of this substudy of a large randomized controlled trial was to evaluate the efficacy of the Mindfulness-Based Stress Reduction (Breast Cancer) (MBSR[BC]) program compared to usual care (UC) in normalizing blood levels of pro-inflammatory cytokines among breast cancer survivors (BCS).
Method:
A total of 322 BCS were randomized to either a 6-week MBSR(BC) program or a UC. At baseline and 6 and 12 weeks, 10 ml of venous blood and demographic and clinical data were collected and/or updated. Plasma cytokines (interleukin [IL]-1β, IL-6, IL-10, tumor necrosis factor [TNF] α, transforming growth factor [TGF] β1, soluble tumor necrosis factor receptor [sTNFR] 1) were assayed. Linear mixed models were used to assess cytokine levels across three time points (baseline and 6 and 12 weeks) by group (MBSR[BC] vs. UC).
Results:
Of the six measured cytokines, three were nondetectable at rates greater than 50% (IL-10, IL-1β, TGF-β1) and, because of overall low prevalence, were not analyzed further. For the remaining cytokines (TNFα, IL-6, sTNFR1), results showed that TNFα and IL-6 increased during the follow-up period (between 6 and 12 weeks) rather than during the MBSR(BC) training period (between baseline and 6 weeks), while sTNFR1 levels did not change significantly across the 12-week period.
Conclusions:
Study results suggest that MBSR(BC) affects cytokine levels in BCS, mainly with increases in TNFα and IL-6. The data further suggest that B-cell modulation may be a part of immune recovery during breast cancer management and that increases in TNFα and IL-6 may be markers for MBSR(BC)-related recovery.
https://www.ncbi.nlm.nih.gov/pmc/articles/PMC5942506/