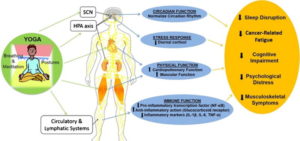 Relieve the Side Effects of Cancer Treatment with Yoga
By John M. de Castro, Ph.D.
"Cancer patients who practice yoga as therapy during their treatment often refer to their yoga practice as a life-saver. The healing power of yoga helps both cancer patients and cancer survivors. No matter how sick from treatments and no matter how little energy, many find that the one thing that would bring relief were a gentle set of therapeutic yoga poses geared for cancer patients." – Yoga U
Receiving a diagnosis of cancer has a huge impact on most people. Feelings of depression, anxiety, and fear are very common and are normal responses to this life-changing and potentially life-ending experience. These feeling can result from changes in body image, changes to family and work roles, feelings of grief at these losses, and physical symptoms such as pain, nausea, or fatigue. People might also fear death, suffering, pain, or all the unknown things that lie ahead. So, coping with the emotions and stress of a cancer diagnosis is a challenge and there are no simple treatments for these psychological sequelae of cancer diagnosis.
Mindfulness training has been shown to help with cancer recovery and help to alleviate many of the residual physical and psychological symptoms, including stress,  sleep disturbance, and anxiety and depression. Yoga practice is a form of mindfulness training that has been shown to be beneficial for cancer patients.  In today's Research News article "Yoga for the Management of Cancer Treatment-Related Toxicities." (See summary below or view the full text of the study at: https://www.ncbi.nlm.nih.gov/pmc/articles/PMC5901971/ ), Lin and colleagues review and summarize the published research literature on the effectiveness of yoga practice for the relief of the problematic effects of cancer treatments.
They review 24 published clinical trials. Based upon this literature, they conclude that yoga practice helps relieve the sleep disturbance that occurs in the majority of cancer patients. They also report that gentle yoga practice, such as Hatha yoga, helps relieve the physical fatigue and cognitive impairments (known as "chemobrain") that occurs in the most cancer patients. Gentle yoga practice also appears to help relieve the psychological distress, including anxiety, depression, and mood disorders that are almost universal symptoms of cancer diagnosis. Finally, they report that gentle yoga practice helps relieve the musculoskeletal pain, muscle aches, and total physical discomfort that can accompany cancer treatment.
These findings suggest that yoga practice has a wide array of positive physical, psychological, and emotional benefits for cancer patients. They suggest that gentle forms of yoga are probably best. This would make sense given the compromised physical conditions of most yoga patients. The exact mechanisms by which yoga practice produces these benefits has not been adequately researched and identified. But, yoga appears to improve responses to stress, the immune response, and the cardiovascular system which may be responsible. Regardless, yoga practice should be recommended to help relieve the suffering and promote recovery of patients with cancer.
So, relieve the side effects of cancer treatment with yoga
"As with many types of complementary therapy one of the main reasons that people with cancer use yoga is because it makes them feel good. .  .  . Generally, it can help to lift your mood and enhance well being. Some people with cancer say it helps calm their mind so that they can cope better with their cancer and its treatment. Others say it helps to reduce symptoms and side effects such as pain, tiredness, sleep problems and depression." – Cancer Research UK
CMCS – Center for Mindfulness and Contemplative Studies
This and other Contemplative Studies posts are also available on Google+ https://plus.google.com/106784388191201299496/posts and on Twitter @MindfulResearch
Study Summary
Lin, P.-J., Peppone, L. J., Janelsins, M. C., Mohile, S. G., Kamen, C. S., Kleckner, I. R., … Mustian, K. M. (2018). Yoga for the Management of Cancer Treatment-Related Toxicities. Current Oncology Reports, 20(1), 5. http://doi.org/10.1007/s11912-018-0657-2
Abstract
Purpose of Review
To (1) explain what yoga is, (2) summarize published literature on the efficacy of yoga for managing cancer treatment-related toxicities, (3) provide clinical recommendations on the use of yoga for oncology professionals, and (4) suggest promising areas for future research.
Recent Findings
Based on a total of 24 phase II and one phase III clinical trials, low-intensity forms of yoga, specifically gentle hatha and restorative, are feasible, safe, and effective for treating sleep disruption, cancer-related fatigue, cognitive impairment, psychosocial distress, and musculoskeletal symptoms in cancer patients receiving chemotherapy and radiation and cancer survivors.
Summary
Clinicians should consider prescribing yoga for their patients suffering with these toxicities by referring them to qualified yoga professionals. More definitive phase III clinical trials are needed to confirm these findings and to investigate other types, doses, and delivery modes of yoga for treating cancer-related toxicities in patients and survivors.
https://www.ncbi.nlm.nih.gov/pmc/articles/PMC5901971/