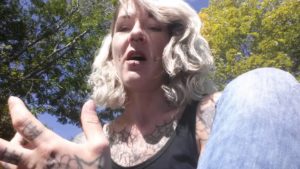 Reduce Paranoia with Mindfulness
By John M. de Castro, Ph.D.
"people who receive Mindfulness Based Cognitive Therapy (MBCT) are taught how to detach from their feelings of paranoia and social discomfort and to recognize that the feelings are simply feelings, and are not reality." – Jen Wilson
Paranoia is a tendency to have delusions of persecution, jealousy, and extreme self-indulgence and believe them to be true. It is estimated that around one in five people worldwide has paranoid thoughts and about one in twenty has severe paranoia. The severe forms are expressed in psychopathological conditions of Paranoid Personality Disorder and Paranoid Schizophrenia. Paranoid thought patterns are stubborn and difficult to treat. They do not respond well to psychotherapy. Hence there is a need to find alternative methods to treat paranoia.
Mindfulness training has been shown through extensive research to be effective in improving the physical and psychological condition of otherwise healthy people and also treating the physical and psychological issues of people with illnesses. Techniques such as Mindfulness-Based Stress Reduction (MBSR) and Mindfulness-Based Cognitive Therapy (MBCT) as well as Yoga practice and Tai Chi or Qigong practice have been demonstrated to be particularly effective. This has led to an increasing adoption of these mindfulness techniques for the health and well-being of both healthy and ill individuals. The effectiveness of mindfulness training for paranoia, however, is not known.
In today's Research News article "A Randomised Controlled Trial of a Brief Online Mindfulness-Based Intervention on Paranoia in a Non-Clinical Sample." (See summary below or view the full text of the study at: https://www.ncbi.nlm.nih.gov/pmc/articles/PMC5770499/ ), Shore and colleagues examined the effectiveness of mindfulness training for reducing paranoia in normally functioning individuals. They recruited normal healthy participants from a university and through social media (mean age 32 years, predominantly >90% female) and randomly assigned them to a mindfulness or wait-list control condition. Mindfulness instruction was conducted on-line with a 10-minute guided meditation, daily, for two weeks. Participants were measured before and after training and one week later for mindfulness and paranoia.
They found that compared to baseline and the wait-list control group, the brief mindfulness training produced significant increases in mindfulness and significant decreases in paranoia that were maintained at the one-week follow-up. Mediation analysis revealed that the mindfulness training effect on paranoia was due to mindfulness training increasing the observe, describe, and non-react facets of mindfulness. Hence, the brief on-line mindfulness training appeared to increase mindfulness which in turn decreased paranoia in an otherwise normal non-clinical population.
These are interesting findings that suggest that a brief meditation training can improve the ability to observe what is transpiring in the present moment, describe its contents, and observe it without reaction. Paranoia is rooted in an improper interpretation of the present context and fears for the future. The mindfulness training, by improving the ability to properly observe and not react to what is happening, interrupts paranoid ideation and thereby reduces generalized paranoia. It remains to be seen if mindfulness training can also work with participants who have clinical levels of paranoia.
So, reduce paranoia with mindfulness.
"mindfulness will not reduce the amount of paranoid thinking but will simply change the way the person reacts to it and thus make it less disabling." – Living with Schizophrenia
CMCS – Center for Mindfulness and Contemplative Studies
This and other Contemplative Studies posts are also available on Google+ https://plus.google.com/106784388191201299496/posts and on Twitter @MindfulResearch
Study Summary
Robert Shore, Clara Strauss, Kate Cavanagh, Mark Hayward, Lyn Ellett. A Randomised Controlled Trial of a Brief Online Mindfulness-Based Intervention on Paranoia in a Non-Clinical Sample. Mindfulness (N Y) 2018; 9(1): 294–302. Published online 2017 Jul 14. doi: 10.1007/s12671-017-0774-2
Abstract
Paranoia is common and distressing in the general population and can impact on health, emotional well-being and social functioning, such that effective interventions are needed. Brief online mindfulness-based interventions (MBIs) have been shown to reduce symptoms of anxiety and depression in non-clinical samples; however, at present, there is no research investigating whether they can reduce paranoia. The current study explored whether a brief online MBI increased levels of mindfulness and reduced levels of paranoia in a non-clinical population. The mediating effect of mindfulness on any changes in paranoia was also investigated. One hundred and ten participants were randomly allocated to either a 2-week online MBI including 10 min of daily guided mindfulness practice or to a waitlist control condition. Measures of mindfulness and paranoia were administered at baseline, post-intervention and 1-week follow-up. Participants in the MBI group displayed significantly greater reductions in paranoia compared to the waitlist control group. Mediation analysis demonstrated that change in mindfulness skills (specifically the observe, describe and non-react facets of the FFMQ) mediated the relationship between intervention type and change in levels of paranoia. This study provides evidence that a brief online MBI can significantly reduce levels of paranoia in a non-clinical population. Furthermore, increases in mindfulness skills from this brief online MBI can mediate reductions in non-clinical paranoia. The limitations of the study are discussed.