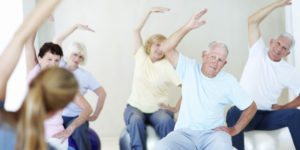 Improve Knee Osteoarthritis in Older Adults with Yoga
By John M. de Castro, Ph.D.
"Osteoarthritis is a chronic, long-term disease that affects millions of elderly adults. There is currently no known cure for it and treatment options are limited. New research, however, suggests that chair yoga is effective in relieving osteoarthritis pain." Ana Sandoiu
Osteoarthritis is a chronic degenerative joint disease that is the most common form of arthritis. It produces pain, swelling, and stiffness of the joints. It is the leading cause of disability in the U.S., with about 43% of arthritis sufferers limited in mobility and about a third having limitations that affect their ability to perform their work. Knee osteoarthritis effects 5% of adults over 25 years of age and 12% of those over 65. It is painful and disabling. Its causes are varied including, hereditary, injury including sports injuries, repetitive stress injuries, infection, or from being overweight.
There are no cures for knee osteoarthritis. Treatments are primarily symptomatic, including weight loss, exercise, braces, pain relievers and anti-inflammatory drugs, corticosteroids, arthroscopic knee surgery, or even knee replacement. Gentle movements of the joints with exercise and physical therapy appear to be helpful in the treatment of knee osteoarthritis. This suggests that alternative and complementary practices that involve gentle knee movements may be useful for treatment.
Various forms of traditional Chinese exercises, such as Tai Chi, Qigong, and Baduanjin involve slow gentle movements of the limbs and mindfulness and have been shown to reduce the physical symptoms of knee osteoarthritis. Another mindfulness practice, yoga, has been shown to be a safe and effective treatment for a wide variety of physical and psychological conditions, including arthritis. So, it would seem reasonable to look further into the effectiveness of yoga practice in treating knee osteoarthritis.
In today's Research News article "Managing knee osteoarthritis with yoga or aerobic/strengthening exercise programs in older adults: a pilot randomized controlled trial." See summary below or view the full text of the study at: https://www.ncbi.nlm.nih.gov/pmc/articles/PMC5569242/, Cheung and colleagues recruited elderly (>60 years of age) participants with knee osteoarthritis and randomly assigned them to one of three conditions; Hatha Yoga, Strengthening Exercise, or Education Control. The yoga and exercise training occurred in 8 weekly 45-minute sessions supplemented with 4 30-minute sessions per week at home. The Education Control consisted of the distribution of pamphlets on knee osteoarthritis. Participants were measured before, the midpoint (4 weeks), and after training for knee osteoarthritis pain, stiffness, and physical function, lower extremity function, anxiety, depression, fear of falling, spiritual health, quality of life, program satisfaction, and adherence to the program.
They found that compared to the education condition, the Hatha Yoga and strengthening exercise practices produced significantly greater improvements in overall knee osteoarthritis symptoms, including pain, physical function, chair stands, walking, anxiety, and fear of falling. But, the Hatha Yoga practice compared to the strengthening exercise produced significantly superior improvements in overall knee osteoarthritis symptoms, including pain, physical function, anxiety, and fear of falling. Hence, although both exercises produced significant improvements in the symptoms of knee osteoarthritis, Hatha Yoga was significantly better. Importantly, no adverse events were produced by the Hatha Yoga practice.
These are important results as, although yoga has been previously shown to improve knee osteoarthritis symptoms, it has not been shown to be superior to other exercise programs. This superiority suggests that the mindfulness components of yoga have benefits for knee osteoarthritis in addition to the gentle exercise components. This may be due to the ability of mindfulness training to reduce anxiety and stress responses which are known to amplify pain and fear. Regardless, the findings clearly indicate that Hath Yoga practice is safe and effective and should be recommended for elderly individuals with knee osteoarthritis.
So, improve knee osteoarthritis in older adults with yoga.
"For the millions of older adults who suffer from osteoarthritis in their lower extremities (hip, knee, ankle or foot), chair yoga is proving to be an effective way to reduce pain and improve quality of life while avoiding pharmacologic treatment or adverse events." – Florida Atlantic University
CMCS – Center for Mindfulness and Contemplative Studies
This and other Contemplative Studies posts are also available on Google+ https://plus.google.com/106784388191201299496/posts and on Twitter @MindfulResearch
Study Summary
Cheung, C., Wyman, J. F., Bronas, U., McCarthy, T., Rudser, K., & Mathiason, M. A. (2017). Managing knee osteoarthritis with yoga or aerobic/strengthening exercise programs in older adults: a pilot randomized controlled trial. Rheumatology International, 37(3), 389–398. http://doi.org/10.1007/s00296-016-3620-2
Abstract
Although exercise is often recommended for managing osteoarthritis (OA), limited evidence-based exercise options are available for older adults with OA. This study compared the effects of Hatha yoga (HY) and aerobic/strengthening exercises (ASE) on knee OA. Randomized controlled trial with three arms design was used: HY, ASE, and education control. Both HY and ASE groups involved 8 weekly 45-min group classes with 2–4 days/week home practice sessions. Control group received OA education brochures and weekly phone calls from study staff. Standardized instruments were used to measure OA symptoms, physical function, mood, spiritual health, fear of falling, and quality of life at baseline, 4 and 8 weeks. HY/ASE adherences were assessed weekly using class attendance records and home practice video recordings. Primary analysis of the difference in the change from baseline was based on intent-to-treat and adjusted for baseline values. Eight-three adults with symptomatic knee OA completed the study (84% female; mean age 71.6 ± 8.0 years; mean BMI 29.0 ± 7.0 kg/m2). Retention rate was 82%. Compared to the ASE group at 8 weeks, participants in the HY group had a significant improvement from baseline in perception of OA symptoms (−9.6 [95% CI −15.3, −4]; p = .001), anxiety (−1.4 [95% CI −2.7, −0]; p = .04), and fear of falling (−4.6 [−7.5, −1.7]; p = .002). There were no differences in class/home practice adherence between HY and ASE. Three non-serious adverse events were reported from the ASE group. Both HY and ASE improved symptoms and function but HY may have superior benefits for older adults with knee OA.