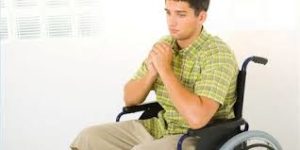 Mindfulness Improves Stress and Psychological Well-Being in Patients with Multiple Sclerosis
By John M. de Castro, Ph.D.
"Studies show that for some people with MS, chronic exposure to stress is associated with worsening neurological symptoms and increased brain lesions. . . and relapses. Researchers believe that mindfulness may help people better respond to stress by fostering healthier coping strategies." – Amit Sood
Multiple Sclerosis (MS) is a progressive demyelinating disease which attacks the coating on the neural axons which send messages throughout the body and nervous system. It affects about 2 million people worldwide and about 400,000 in the U.S. It is most commonly diagnosed in people between the ages of 20 and 50 years.  Unfortunately, there is no cure for multiple sclerosis. There are a number of approved medications that are used to treat MS but are designed to lessen frequency of relapses and slow the progression of the disease, but they don't address individual symptoms.
Although there is a progressive deterioration, MS is not fatal with MS patients having about the same life expectancy as the general population. Hence, most MS sufferers have to live with the disease for many years. So, quality of life becomes a major issue. Quality of life with MS is affected by fatigue, cognitive decrements, physical impairment, depression, and poor sleep quality. There is thus a critical need for safe and effective methods to help relieve the symptoms of MS and improve quality of life over the lifespan. Mindfulness has been previously shown to improve depression, sleep quality, cognitive impairments, emotion regulation, and fatigue. A number of forms of mindfulness training including meditation, yoga, and tai chi have been shown to improve the symptoms of multiple sclerosis. Since, the Mindfulness Based Stress Reduction (MBSR) program incorporates meditation, yoga, and body scan, it may be particularly helpful for patients with MS.
In today's Research News article "Mindfulness-based stress reduction for people with multiple sclerosis – a feasibility randomised controlled trial." See summary below or view the full text of the study at: https://www.ncbi.nlm.nih.gov/pmc/articles/PMC5434553/, Simpson and colleagues perform a pilot study of the effectiveness of a Mindfulness Based Stress Reduction (MBSR) program for the symptoms of multiple sclerosis. They recruited adults with Multiple Sclerosis and randomly assigned them to either receive 8 weeks, once a week for 90 minutes, of Mindfulness Based Stress Reduction (MBSR) or a wait-list control condition. Patients were encouraged to practice daily at home. They were measured before and after treatment and three months later for perceived stress, quality of life, fatigue mental health, social support, cognitive function, pain, visual function, bladder function, bowel function, sexual satisfaction, mindfulness, self-compassion, and emotional lability.
They found that immediately after treatment the MBSR group compared to the wait-list controls had significant improvements in their quality of life with small effect size and in perceived stress, depression, self-compassion, anxiety, and positive emotions with large effect sizes. For the most part these effects were maintained at the three-month follow-up. These results need to be replicated in a large randomized controlled clinical trial with an active control group.
The results demonstrate that MBSR has relatively large beneficial effects on the quality of life and psychological well-being of patients with multiple sclerosis that appear to endure, at least for three months after treatment. It will be important to see if continued practice at home can maintain the benefits for long periods of time.
But it is clear that mindfulness improves stress and psychological well-being in patients with multiple sclerosis
"Studies in multiple sclerosis, these have shown that mindfulness can improve quality of life and help people cope better with their MS. The studies also found that it decreased stress, anxiety and depression." – Multiple Sclerosis Trust
CMCS – Center for Mindfulness and Contemplative Studies
This and other Contemplative Studies posts are also available on Google+ https://plus.google.com/106784388191201299496/posts and on Twitter @MindfulResearch
Study Summary
Simpson, R., Mair, F. S., & Mercer, S. W. (2017). Mindfulness-based stress reduction for people with multiple sclerosis – a feasibility randomised controlled trial. BMC Neurology, 17, 94. http://doi.org/10.1186/s12883-017-0880-8
Abstract
Background
Multiple sclerosis (MS) is a stressful condition. Mental health comorbidity is common. Stress can increase the risk of depression, reduce quality of life (QOL), and possibly exacerbate disease activity in MS. Mindfulness-Based Stress Reduction (MBSR) may help, but has been little studied in MS, particularly among more disabled individuals.
Methods
The objective of this study was to test the feasibility and likely effectiveness of a standard MBSR course for people with MS. Participant eligibility included: age > 18, any type of MS, an Expanded Disability Status Scale (EDSS).
Results
Fifty participants were recruited and randomised (25 per group). Trial retention and outcome measure completion rates were 90% at post-intervention, and 88% at 3 months. Sixty percent of participants completed the course. Immediately post-MBSR, perceived stress improved with a large effect size (ES 0.93; p < 0.01), compared to very small beneficial effects on QOL (ES 0.17; p = 0.48). Depression (ES 1.35; p < 0.05), positive affect (ES 0.87; p = 0.13), anxiety (ES 0.85; p = 0.05), and self-compassion (ES 0.80; p < 0.01) also improved with large effect sizes. At three-months post-MBSR (study endpoint) improvements in perceived stress were diminished to a small effect size (ES 0.26; p = 0.39), were negligible for QOL (ES 0.08; p = 0.71), but were large for mindfulness (ES 1.13; p < 0.001), positive affect (ES 0.90; p = 0.54), self-compassion (ES 0.83; p < 0.05), anxiety (ES 0.82; p = 0.15), and prospective memory (ES 0.81; p < 0.05).
Conclusions
Recruitment, retention, and data collection demonstrate that a RCT of MBSR is feasible for people with MS. Trends towards improved outcomes suggest that a larger definitive RCT may be warranted. However, optimisation changes may be required to render more stable the beneficial treatment effects on stress and depression.