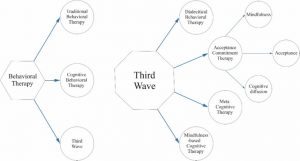 Improve Sleep and Reduce Insomnia with Mindfulness
By John M. de Castro, Ph.D.
"If insomnia is at the root of your sleepless nights, it may be worth trying meditation. The deep relaxation technique has been shown to increase sleep time, improve sleep quality, and make it easier to fall (and stay) asleep." – Sleep Foundation
Modern society has become more around-the-clock and more complex producing considerable pressure and stress on the individual. The advent of the internet and smart phones has exacerbated the problem. The resultant stress can impair sleep. Indeed, it is estimated that over half of Americans sleep too little due to stress. As a result, people today sleep 20% less than they did 100 years ago. Not having a good night's sleep has adverse effects upon the individual's health, well-being, and happiness. It has been estimated that 30 to 35% of adults have brief symptoms of insomnia, 15 to 20% have a short-term insomnia disorder, and 10% have chronic insomnia
Insomnia is more than just an irritant. Sleep deprivation is associated with decreased alertness and a consequent reduction in performance of even simple tasks, decreased quality of life, increased difficulties with memory and problem solving, increased likelihood of accidental injury including automobile accidents, and increased risk of dementia and Alzheimer's disease. It also can lead to anxiety about sleep itself. This is stressful and can produce even more anxiety about being able to sleep. About 4% of Americans revert to sleeping pills. But these do not always produce high quality sleep and can have problematic side effects. So, there is a need to find better methods to treat insomnia. Mindfulness-based practices have been reported to improve sleep amount and quality and help with insomnia.
Acceptance and Commitment Therapy (ACT) is a mindfulness-based psychotherapy technique that is employs many of the techniques of Cognitive Behavioral Therapy (CBT). ACT focuses on the individual's thoughts, feelings, and behavior and how they interact to impact their psychological and physical well-being. It then works to change thinking to alter the interaction and produce greater life satisfaction. ACT employs mindfulness practices to increase awareness and develop an attitude of acceptance and compassion in the presence of painful thoughts and feelings. ACT teaches individuals to "just notice", accept and embrace private experiences and focus on behavioral responses that produce more desirable outcomes. It would seem reasonable to expect that Acceptance and Commitment Therapy (ACT) might improve sleep and relieve insomnia. A number of studies have been performed. So, it makes sense to examine what has been learned.
In today's Research News article "The effect of acceptance and commitment therapy on insomnia and sleep quality: A systematic review." (See summary below or view the full text of the study at: https://www.ncbi.nlm.nih.gov/pmc/articles/PMC7425538/ ) Salari and colleagues review and summarize the published research studies on the effects of Acceptance and Commitment Therapy (ACT) on sleep and insomnia.
They identified 19 published studies with a total of 1577 participants. They report that the published research found that Acceptance and Commitment Therapy (ACT) significantly improved sleep quality and reduced insomnia in healthy individuals and in patients with chronic insomnia. These benefits of ACT were still present up to a year after the completion of training.
Acceptance and Commitment Therapy (ACT) is a complex therapy and the studies do not identify which components or combination of components are necessary to produce the benefits. Nevertheless, the results clearly demonstrate that ACT is a safe and effective therapy for the improvement of sleep and the reduction in insomnia. This should have secondary effects of improving health and well-being
So, improve sleep and reduce insomnia with mindfulness.
"The idea is to create a reflex to more easily bring forth a sense of relaxation. That way, it's easier to evoke the relaxation response at night when you can't sleep." – Herbert Benson
CMCS – Center for Mindfulness and Contemplative Studies
This and other Contemplative Studies posts are also available on Google+ https://plus.google.com/106784388191201299496/posts and on Twitter @MindfulResearch
Study Summary
Salari, N., Khazaie, H., Hosseinian-Far, A., Khaledi-Paveh, B., Ghasemi, H., Mohammadi, M., & Shohaimi, S. (2020). The effect of acceptance and commitment therapy on insomnia and sleep quality: A systematic review. BMC neurology, 20(1), 300. https://doi.org/10.1186/s12883-020-01883-1
Abstract
Background
Acceptance and Commitment Therapy (ACT), as a type of behavioral therapy, attempts to respond to changes in people's performance and their relationship to events. ACT can affect sleep quality by providing techniques to enhance the flexibility of patients' thoughts, yet maintaining mindfullness. Therefore, for the first time, a systematic review on the effects of ACT on sleep quality has been conducted.
Methods
This systematic review was performed to determine the effect of ACT on insomnia and sleep quality. To collect articles, the PubMed, Web of Science (WOS), Cochrane library, Embase, Scopus, Science Direct, ProQuest, Mag Iran, Irandoc, and Google Scholar databases were searched, without a lower time-limit, and until April 2020.
Results
Related articles were derived from 9 research repositories, with no lower time-limit and until April 2020. After assessing 1409 collected studies, 278 repetitive studies were excluded. Moreover, following the primary and secondary evaluations of the remaining articles, 1112 other studies were removed, and finally a total of 19 intervention studies were included in the systematic review process. Within the remaining articles, a sample of 1577 people had been assessed for insomnia and sleep quality.
Conclusion
The results of this study indicate that ACT has a significant effect on primary and comorbid insomnia and sleep quality, and therefore, it can be used as an appropriate treatment method to control and improve insomnia.
https://www.ncbi.nlm.nih.gov/pmc/articles/PMC7425538/