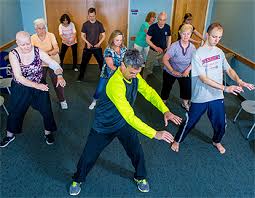 Improve the Physiology and Quality of Life with Cancer with Qigong
By John M. de Castro, Ph.D.
"Regular practice of Qigong exercise therapy has the potential to improve cancer-related QOL and is indirectly linked to cancer prevention and survival." – Qigong Institute
Receiving a diagnosis of cancer has a huge impact on most people. Feelings of depression, anxiety, and fear are very common and are normal responses to this life-changing and potentially life-ending experience. These feeling can result from changes in body image, changes to family and work roles, feelings of grief at these losses, and physical symptoms such as pain, nausea, or fatigue. People might also fear death, suffering, pain, or all the unknown things that lie ahead. So, coping with the emotions and stress of a cancer diagnosis is a challenge and there are no simple treatments for these psychological sequelae of cancer diagnosis.
But cancer diagnosis is not necessarily a death sentence. Over half of the people diagnosed with cancer are still alive 10 years later and this number is rapidly increasing. It is estimated that 15 million adults and children with a history of cancer are alive in the United States today. But, surviving cancer carries with it a number of problems. "Physical, emotional, and financial hardships often persist for years after diagnosis and treatment. Cancer survivors are also at greater risk for developing second cancers and other health conditions." National Cancer Survivors Day.
Mindfulness training has been shown to help with cancer recovery and help to alleviate many of the residual physical and psychological symptoms, including stress,  sleep disturbance, and anxiety and depression.. Tai Chi or Qigong practice has been shown to improve quality of life, reduce fatigue, and lower blood pressure and cortisol levels.  In today's Research News article "Qigong in Cancer Care: Theory, Evidence-Base, and Practice." See summary below or view the full text of the study at: https://www.ncbi.nlm.nih.gov/pmc/articles/PMC5597070/, Klein reviews and summarized the published research literature on the application of Qigong practice for the treatment of patients with cancer. She defined Qigong practice as "Qigong refers to all skills of mind-body exercises that integrate breathing adjustment, body adjustment and mind adjustment into one."
She reports that Qigong practice appears to strengthen the immune system and decrease the inflammatory responses; processes that tend to exacerbate the progression of cancer. In addition, Qigong practice appears to affect the DNA itself, preserving the telomeres, which are associated with cellular health. Qigong practice by cancer patients appears to improve the patients' quality of life, reduce the fatigue that often accompanies cancer treatment, strengthen immune function, reduce cortisol levels, a stress marker, and reduce the cognitive impairments that frequently accompany cancer treatment. These benefits are present regardless of the variant of Qigong that is practiced. Finally, she reports that the research literature reports that Qigong practice is safe, with no known negative side effects.
The research suggests that Qigong practice is a safe and effective treatment for cancer patients. It appears to produce physiological changes that promote the individual's ability to fight the cancer, mitigate the negative effects of cancer treatments, and overall improve the individual's ability to carry on with their lives. Also, Qigong is a gentle practice, completely safe, can be used by anyone, including the elderly and sickly, is inexpensive to administer, is convenient as it can be performed in groups or alone, at home or in a facility or even public park, and can be quickly learned. In addition, it can also be practiced in social groups without professional supervision. This can make it fun, improving the likelihood of long-term engagement in the practice.
So, improve the physiology and quality of life with cancer with Qigong.
"Qigong is clearly not for those who would like to take a pill and wait for the next instruction from the oncologist. But for anyone who has found their diagnosis has led them to a deeper enquiry into the subtler energetic levels of health and healing, this practice has a proven track record and can provide excellent results for those with the discipline for daily practice." – Ginny Fraser
CMCS – Center for Mindfulness and Contemplative Studies
This and other Contemplative Studies posts are also available on Google+ https://plus.google.com/106784388191201299496/posts and on Twitter @MindfulResearch
Study Summary
Klein, P. (2017). Qigong in Cancer Care: Theory, Evidence-Base, and Practice. Medicines, 4(1), 2. http://doi.org/10.3390/medicines4010002
Abstract
Background: The purpose of this discussion is to explore the theory, evidence base, and practice of Qigong for individuals with cancer. Questions addressed are: What is qigong? How does it work? What evidence exists supporting its practice in integrative oncology? What barriers to wide-spread programming access exist? Methods: Sources for this discussion include a review of scholarly texts, the Internet, PubMed, field observations, and expert opinion. Results: Qigong is a gentle, mind/body exercise integral within Chinese medicine. Theoretical foundations include Chinese medicine energy theory, psychoneuroimmunology, the relaxation response, the meditation effect, and epigenetics. Research supports positive effects on quality of life (QOL), fatigue, immune function and cortisol levels, and cognition for individuals with cancer. There is indirect, scientific evidence suggesting that qigong practice may positively influence cancer prevention and survival. No one Qigong exercise regimen has been established as superior. Effective protocols do have common elements: slow mindful exercise, easy to learn, breath regulation, meditation, emphasis on relaxation, and energy cultivation including mental intent and self-massage. Conclusions: Regular practice of Qigong exercise therapy has the potential to improve cancer-related QOL and is indirectly linked to cancer prevention and survival. Wide-spread access to quality Qigong in cancer care programming may be challenged by the availability of existing programming and work force capacity.